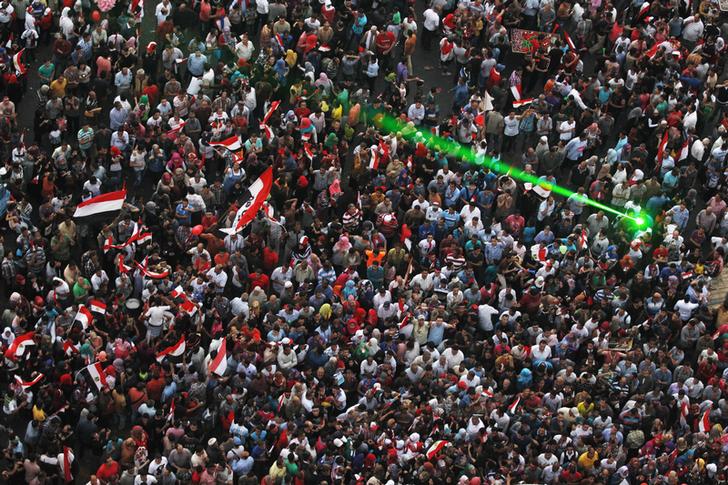 Egyptians celebrate after the swearing-in ceremony of president-elect Abdel Fattah al-Sisi in Tahrir square in Cairo, June 8, 2014. REUTERS/Mohamed Abd El Ghany
By Arwa Gaballa
CAIRO, June 9 (Aswat Masriya) A graphic video of a mob harassing and stripping a woman off her clothes began circulating online late on Sunday, despite last week's decision to enforce harsher punishments on sexual harassers.
Egypt's general prosecution has begun investigations into the case, a security source told Aswat Masriya, adding that the prosecutor has asked for all footage of the incident to be handed over to the authorities.
Michael Raouf, a lawyer from El Nadim Center for the Management and Rehabilitation of Victims of Violence, has confirmed that investigations into the case have begun, adding that he is following up on the case.

A description attached to the YouTube video says it was shot on June 8 in Tahrir Square during pro-Sisi celebrations and uploaded for "documentation purposes". The title of the YouTube video roughly translates to "Harassment and Stripping of Girls in Tahrir Square at pro-Sisi Celebration".
In the video, a group seems to try to escort the bleeding victim to safety, with the help of a policeman, before she falls to the ground, seemingly injured and without clothes on.
A policeman was wounded and seven people were arrested in sexual harassment incidents on Sunday as Egyptians celebrated the inauguration of newly elected president Abdel Fattah al-Sisi, Egypt's Ministry of Interior said in a statement.

A law introduced by former interim President Adli Mansour on Thursday, days before he handed over power to Sisi, stated that sexual harassers shall face imprisonment for at least one year and a fine of at least 3,000 Egyptian pounds (419 US Dollar).
The umbrella of sexual harassment was also extended to include verbal harassment, sexual gestures or harassment through phones or other means of communication.
Reports of sexual harassment cases in Egypt have increased sharply in recent years. Activist Yasmine El Baramawy appeared on television in November 2012 to tell her story of how she was subjected to a group rape in Cairo's iconic Tahrir Square during the January 25 uprising protests.
Baramawy told Aswat Masriya in December that her attackers cordoned her after they had identified her as a target. She said that she believed that the slow judicial pace encourages more of this kind of attacks.
A video of a journalist reporting on celebrations from Tahrir on Sunday has also stirred rage among online activists who considered the television host's reaction to reports of harassment offensive.
When the field reporter tells the host that there have been sexual harassment incidents, the host is heard laughing on air, commenting, "Well, they were just happy."
The Tahrir Channel host later apologized for her comments, saying she thought they were only rumors, a local newspaper said.