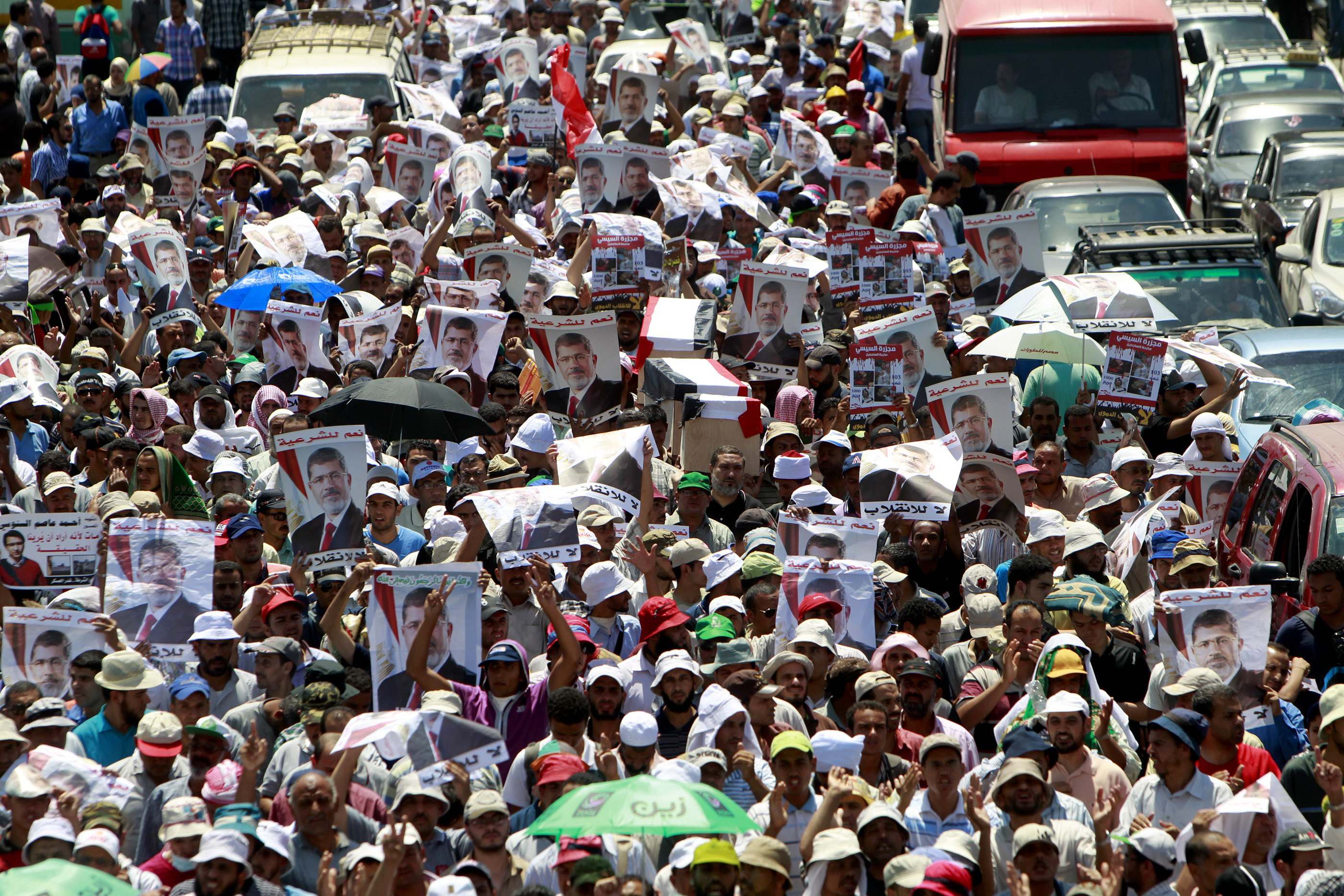 Supporters of deposed Egyptian President Mohamed Mursi shout slogans and hold symbolic coffins during a march from the Al-Fath Mosque to the defence ministry, in Cairo July 30, 2013. REUTERS/Mohamed Abd El Ghany
Supporters of deposed president Mohamed Mursi, led by the Muslim Brotherhood, have taken to the streets in several marches across Cairo to protest against "police brutality" after the recent Nasr City violence.

The National Alliance to Support Legitimacy, a pro-Mursi coalition of mainly Islamist parties led by the Brotherhood, organised a 'million-man demonstration' on Tuesday to condemn the killing of dozens of pro-Mursi protesters during clashes with security on Saturday.

A march from Al-Fath Mosque in downtown Ramses and another from Al-Nour Mosque in Abbasiya headed to Rabaa Al-Adawiya Mosque in Nasr City, where Mursi supporters have been staging a large sit-in since 28 June.

Another female march moving to the defence ministry was stopped by the army, who blocked the road to the ministry, setting up barbed wire.

Meanwhile, hundreds of demonstrators at Al-Nahda Square in front of Cairo University in Giza, where Mursi supporters have also been staging a sit-in, marched to the nearby embassies of Saudi Arabia and the UAE to protest against the Gulf states' support of the army's move to remove Mursi from power.

The wealthy Gulf Arab states pledged $8 billion in aid to Egypt a few days after Mursi's ouster on 3 July following huge protests against him.

On Monday evening, pro-Mursi demonstrators marched with symbolic empty coffins to a number of security directorates across Egypt. In the Suez Canal city of Ismailia, clashes erupted between Mursi's supporters and opponents, leaving 17 people injured.

Earlier on Monday, the Islamist alliance announced that they planned on setting up a tent to conduct a three-day public wake near the Autostrad road in Cairo to receive condolences for Saturday's victims.

More than 80 civilians were killed and hundreds injured, mostly pro-Mursi demonstrators, when supporters of the ousted president and the police clashed at the Memorial of the Unknown Soldier in Nasr City in the early hours of Saturday.

The Muslim Brotherhood has been staging protests and sit-ins across Egypt calling for his reinstatement and protesting what it describes as a 'military-coup' against the country's first democratically-elected leader.