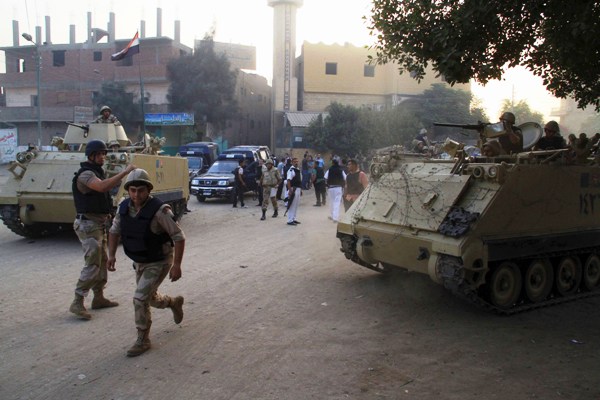 Security forces take their positions during clashes with gunmen in Kerdasa, a town 14 km (9 miles) from Cairo, September 19, 2013. REUTERS/Stringer
Egypt's government will not tolerate "criminal and terrorist groups" that terrorize citizens, Prime Minister Hazem al-Beblawi said on Friday.
Security bodies are capable of purging the country of all criminals and restoring safety and security to the country, Beblawi said in a statement after attending the funeral of slain police officer Nabil Farrag.
Farrag was killed on Thursday during an attack on Kerdasa police station in Giza. His funeral was held earlier on Friday at Aal Rashdan Mosque.
The security of Egypt and its citizens are a red line, Beblawi stated.
The prime minister offered his condolences to Farrag's family and to the Interior Ministry, the Middle East News Agency reported.