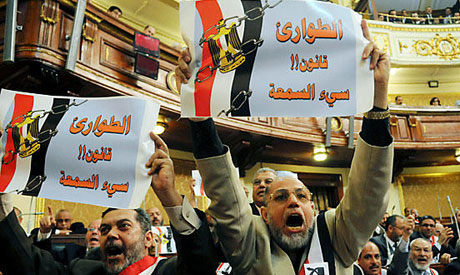 Egyptian Muslim Brotherhood members of parliament protest against the extension of emergency law during a parliament session in 2005. The words on the banners read "No to emergency law". -Reuters
Ismailia governor Gamal Imbaby decided on Wednesday to reduce the curfew to three hours only, starting from 2 a.m., sources have told Reuters.
Egyptian President Mohamed Mursi had declared a 30-day state of emergency in Suez, Port Said and Ismailia and imposed a 9 p.m. to 6 a.m. curfew on them.