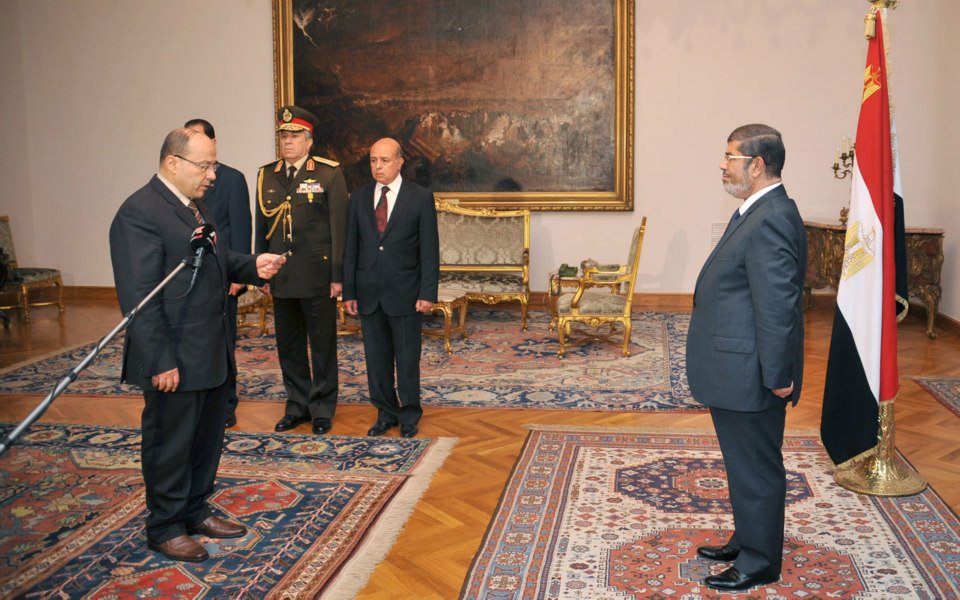 New Attorney General Talaat Ibrahim takes oath before President Mohamed Mursi - Handout
Egypt's Administrative Court is due to rule on Tuesday on a case against President Mohamed Morsi's dismissal of Mubarak-era prosecutor-general Abdel-Meguid Mahmoud last November.
The case seeks to revoke Morsi's decision on the argument that the removal was unconstitutional, unlawful and had bypassed the judiciary. They also demand the removal of the Morsi-appointed successor, Talaat Abdullah.
Under the Egyptian legal system, it is by judicial decree that the prosecutor-general can be dismissed – the president is not given that authority to do so.
President Morsi, however, dismissed the prosecutor-general within the context of a legislative void, via a highly controversial constitutional declaration.
After Egypt's People's Assembly (lower house of parliament) was ruled unconstitutional and disbanded, President Morsi issued a constitutional declaration in November 2012. He used the controversial decree to make several strong political moves, including dismissing the country's prosecutor-general and replacing him with Talaat Abdullah.
Although the decree was eventually repealed under massive street pressure and after the Islamist-drafted constitution was pushed through, the status of the prosecutor-general remained as is.
The removal of the prosecutor-general had sparked an uproar from Egypt's opposition, with critics arguing that by the decree Morsi had granted himself both executive and legislative power.
The president's move followed an outbreak of public anger when a Cairo court acquitted prominent Mubarak-era officials and individuals charged with orchestrating the famous Battle of the Camel attack on Tahrir Square.
Twenty-one protesters were killed and hundreds injured during the Battle of the Camel attack, when plain-clothed assailants, some on horse and camelback, violently attacked a sit-in on the flashpoint square during the initial 18 days of the Egyptian 2011 uprising.
The dismissal of the succeeding Morsi-appointed prosecutor-general Talaat Abdullah has become one of the major demands of Egypt's opposition forces.