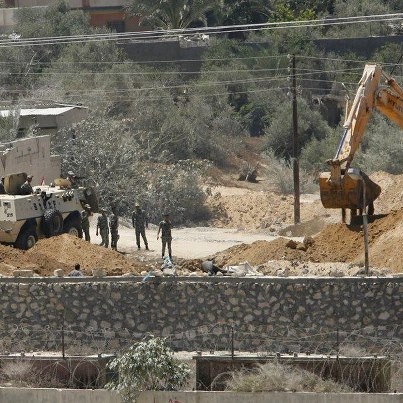 (Archive) Army forces supervise the process of demolishing tunnels in North Sinai - Aswat Masriya
CAIRO, Jan 3 (Aswat Masriya) - The Egyptian military announced Sunday the killing of 26 "Takfiri elements" in North Sinai as part of the implementation of the "Matry's Right" operation in the towns of Arish, Rafah and Sheikh Zuweid.
Army spokesman Mohamed Samir stated that the authorised military forces conducted several raids on "terrorist dens" in Arish, Rafah and Sheikh Zuweid and some areas in Central Sinai under aerial protection on Saturday.
The raids also resulted in the arrest of five suspects and the destruction of a vehicle and four motorbikes used by "takfiri elements" in targeting security checkpoints. The army spokesman added that security forces were able to dismantle 18 explosives and demolish two storage cells of explosives and weaponry.
Launched on September 7, the operation has been described by Egyptian authorities as part of a comprehensive plan to combat terrorism in the Sinai Peninsula, specifically in the areas of Rafah, Sheikh Zuweid and Al-Arish.
Passing through its first and second phases, the military's accounts of the "Matry's Right" operation indicates that hundreds of "terrorist elements" have been killed as well as a few security personnel.
North Sinai militants have stepped up attacks targeting security forces since the ouster of Islamist President Mohamed Mursi in July 2013 after mass protests against his rule.
Since October 2014,the Sinai has been under a state of emergency, which was subjected to repeated renewals, following a terrorist attack that resulted in the death of 33 soldiers. The attack was then claimed by ISIS-affiliated "State of Sinai".