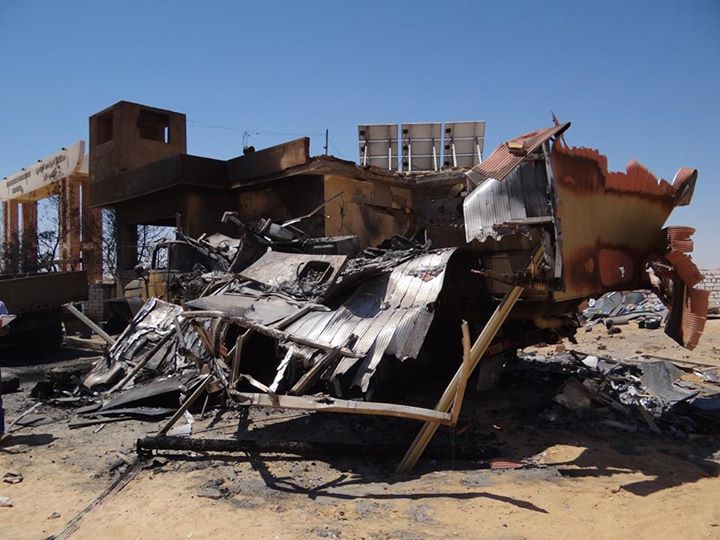 An army checkpoint after being attacked near Farafra in New Valley, July 19, 2014 - Photo from Egyptian army
CAIRO, July 23 (Aswat Masriya) - Following the Farafra attack in Egypt's New Valley last week, where 21 soldiers were killed in a military checkpoint, Aswat Masriya presents in-depth information on the incident.

The attack: What happened?

Unknown gunmen tried to break into the checkpoint while carrying rocket-propelled grenades (RPGs) and explosives, a military spokesperson said. Some of them were killed after a confrontation with soldiers stationed there, he added.
The assailants then fired RPGs blowing up the store ammunition, killing 21 of the soldiers at the checkpoint, before fleeing the scene.

There are contradicting reports about the total number of assailants.
Twenty people were involved the attack, the armed forces spokesperson said on their official Facebook page. However, security sources at the Ministry of Interior (MOI) reported they were only 12.

Who carries out the investigations?

The military prosecutor is carrying out the investigation, which confirmed that foreign militants were involved, a military source said.

The MOI has also joined the investigation alongside the intelligence services and military investigations, security sources at the MOI said.

How many were arrested so far?

A number of "terrorists" have been identified as suspects, and a group of radicals are currently held, said the military spokesperson, not disclosing their identities or numbers.

Did anyone claim responsibility?

The state-run agency (MENA) has reported that Ansar Bait al-Maqdis group was behind the attack, based on a Twitter statement claiming responsibility. However, the group has repeatedly declared it has no Twitter accounts.

The Ansar Bait al-Maqdis is a militant group that has claimed responsibility for killing dozens of policemen, army soldiers, and tourists after former President Mohamed Mursi had been deposed last July.
An Egyptian court ruled the group a terrorist organization last April.

Were DNA samples obtained?
The perpetrators left behind a body of one of the terrorists, according to a Monday statement by the military spokesperson.
However, MENA has reported that the assailants carried their dead in order to prevent their identification through DNA tests, citing top officials at the MOI.
"Case-breaking leads are anticipated in the coming hours, when the DNA test results of three of the attackers" are out, a military source said.

It is unclear whether DNA samples have been obtained or not, albeit it would prove difficult to identify the attackers, using these samples if obtained.

Forensic authority spokesperson Hisham Abdel Hameed pointed that it is not possible to identify the suspects unless they were previously enlisted in the DNA database.

He added that Egypt does not have a DNA database for all citizens at the moment.