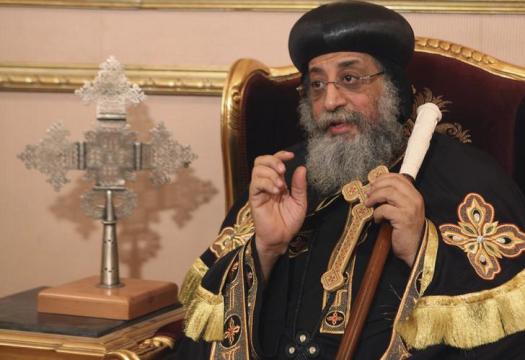 Coptic Orthodox Pope Tawadros II - Reuters photo
CAIRO, Jan 11 (Aswat Masriya) – The head of the Egyptian Coptic Orthodox Church, Pope Tawadros II, will make his first visit as Pope to the southern province of Luxor Monday, according to the media centre of the St. Mark Cathedral.
During the three-day visit to the Upper Egyptian province, Pope Tawadros II will visit monasteries and hold meetings with priests as well as ordinary citizens in Luxor, the cathedral added in a press statement.
This is the fifth visit by a Coptic Orthodox pope to Luxor in 100 years.
Egypt's Christians make up around 10 per cent of the 90 million-strong population.
Coptic Orthodox Christians celebrated Christmas earlier this month. The Coptic Orthodox Christmas is celebrated on Jan. 7 every year, around two weeks after Christmas is celebrated in most Western denominations.
During his visit to the Christmas Eve mass in the cathedral, President Abdel Fattah al-Sisi apologised to Christians for the "delay" in restoring churches and Christians' houses that had been attacked in the fallout from the ouster of former president Mohamed Mursi in 2013.
Mursi, who hails from the Muslim Brotherhood, was ousted by the military following mass protests against his rule.