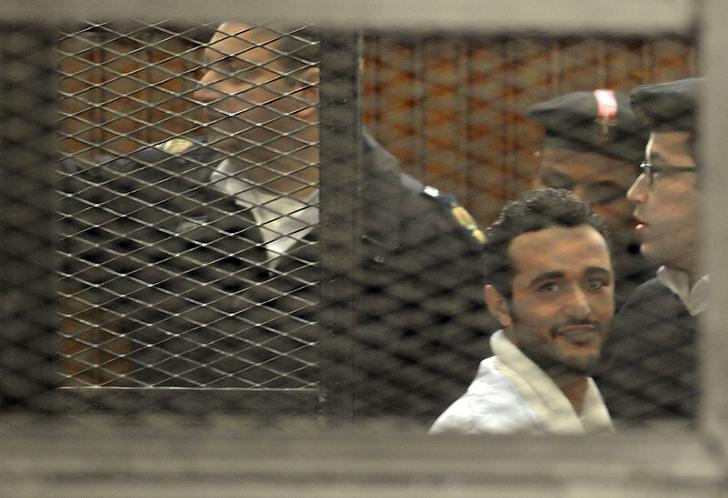 Political activist Ahmed Douma of the 6 April movement looks on behind bars in Cairo, December 22, 2013. REUTERS/Stringer
CAIRO, Feb 4 (Aswat Masriya) - The United States and the European Union condemned the mass sentencing of 230 defendants, including political activist Ahmed Douma, to life in prison in the "cabinet clashes" trial on Wednesday.
Douma was facing trial alongside 268 others for taking part in the "cabinet clashes" which occurred in December 2011. Thirty-nine of the defendants received 10-year prison sentences in absentia; they are all juveniles.
All defendants were ordered to pay a 17 million Egyptian-pound collective fine for vandalism.
U.S State Department Spokeswoman Jen Psaki told reporters in a press briefing on Wednesday its government was "deeply troubled" by the verdict.
"Mass trials and sentences run counter to the most basic democratic principles and due process under the law," Psaki said. "It simply seems impossible that a fair review of evidence and testimony could be achieved under these circumstances."
The EU said the sentences violate Egypt's international human rights obligations, in a statement by the spokesperson in Brussels released late Wednesday.
"The EU calls on the Egyptian authorities to abide by their international obligations, to uphold the right to a fair trial and safeguard due legal process," the statement read. The EU specifically addressed Douma, whom it described as an activist who "spearheaded the ... January 2011 Egyptian uprising."
Osama al-Mahdy, one of the lawyers representing Douma, said that the defence team will appeal the verdict as soon as its details are released. He described the verdict as "unexpected".
Douma smiled and applauded the verdict, prompting the judge to threaten with sentencing him to "three more years in prison."
The defendants were charged with illegal assembly, possession of bladed weapons and Molotov cocktails, assaulting army and police personnel and attacking governmental institutions in December 2011 during the "cabinet clashes".
Clashes broke out between protesters and security forces outside the cabinet headquarters in December 2011, leaving at least three people dead and 255 wounded. Egypt's Scientific Complex, located near the cabinet headquarters, was torched during the clashes.
The judge presiding over the trial, Mohamed Nagi Shehata, said the court based its verdict on witnesses' testimonies, as well as a recorded video for Douma which was broadcast on a television talk show.
During the talk show on private television channel Dream, Douma had said he threw Molotov cocktails at "a group [of people] in army uniform", adding that he was responding to their attacks.
The same court had sentenced Douma to three years in prison and a 10-thousand Egyptian-pound fine during an earlier trial session in December 2014 for insulting court.
Douma's defence team had withdrawn from the trial in November 2014, after complaining of being ill-treated by court.
Egypt's Lawyers' Syndicate supported the defence team's decision to withdraw from the trial, banning its members from taking on the defence case.
The defence team had tried to refer the case to a different bench twice, citing the current bench's "obstinacy" in meeting its requests. Both attempts have failed.
Douma, detained since December 2013, started a hunger strike on August 28, 2014 to protest his imprisonment. He suspended it on September 30, 2014 due to stomach and duodenum ulcers, his wife said.
Egypt's Court of Cassation turned down last week a challenge issued by Douma and April 6 Youth Movement co-founders Ahmed Maher and Mohamed Adel against a separate prison sentence.
The trio was sentenced to three years in prison and a 50,000 Egyptian-pound fine in December 2013 for violating the protest law.