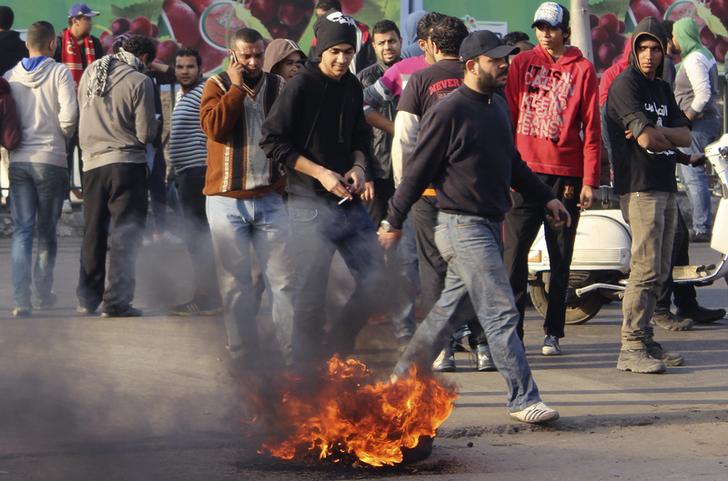 Ultras soccer fans gather around tyres they burnt over a bridge during a rally to demand justice for 74 people killed in a stadium stampede last year, in central Cairo January 23, 2013. REUTERS/Stringer
CAIRO, Aug 30 (Aswat Masriya) – A Cairo prosecutor ordered on Saturday the detention of 36 members of the Zamalek Sporting Club's Ultras fan group for 15 days pending investigations.
The 36 members of Zamalek's Ultras White Knights (UWK) were arrested following clashes with security forces on Thursday night.
They are accused of protesting without notice, joining an illegal group, practicing violence and acts of "thuggery", attacking citizens, vandalising public and private properties, blocking roads and possessing firearms.
UWK members called for a march in Cairo's Shubra neighbourhood on Thursday decrying the arrest of fellow group members over alleged complicity in an attempt on the club chairman's life.
Mortada Mansour, Zamalek club chairman, announced two weeks ago that he was subjected to a failed assassination attempt.
Security forces arrested 11 UWK members over the alleged assassination attempt, reported state-run al-Ahram. The group says security forces broke into the homes of those arrested and allegedly tortured them while in custody.