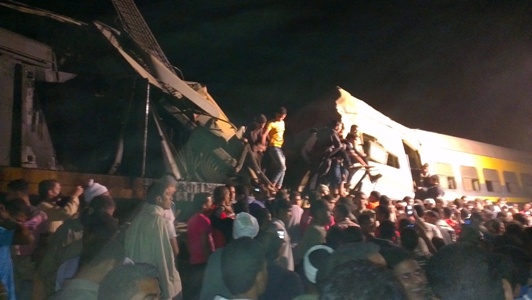 (Archive) A train crash in Fayoum - Aswat Masriya
The Egyptian Center for Economic and Social Rights accused on Sunday a number of current and former officials of wasting loans for the development of railways.

The center said in a statement it issued that the funds were not being spent on their intended purpose.

"As dozens of Egyptians die because of neglect and the decay of maintenance systems in Egypt's railway, the National Railway had borrowed loans worth $ 270 million in 2009 and $ 330 million in 2011," said the statement.

The statement added that "the entire budget was not used during these years, less than quarter of its budget was spent in the 2011-2012 fiscal year, with the absence of real change in the system of railways."

The center confirmed that if true, the numbers listed in loan projects in comparison with the state budget allocated to railway and without actual implementation on the ground, then the officials must be held accountable administratively and criminally.

A train traveling from Upper Egypt to Cairo derailed on Tuesday morning, killing 19 conscripts and injuring 107, in yet another traffic tragedy.

In a similar incident, 50 people, mostly children, were killed when their school bus crashed into a train in a city South of Cairo in November.

The Center filed two cases against the President of the Republic, the Prime Minister, the Minister of Transportation and the chairman of the National Authority for Railways for their unwillingness to form a technical committee to assess the validity of the railways lines.

In those cases, the center asked for the formation of a committee of engineering specialists to assess the viability of rail lines, vehicles, signs and their compliance with safety standards and safety.

The center also demanded obliging the president and the government to provide all information and documents for the accounts and the amounts obtained by the ministry for the development of railways, in addition to reports issued by the government on the status of the railways before and after the funding.

Egyptians have complained for a long time ago that the governments failed to implement safety standards in the transport sector, but many had hope that the government's performance would improve after ousting the former President Hosni Mubarak in the uprising.

However, even after the uprising, the people still feel that the value of their lives is worthless to all the successive governments that came into cabinet since the uprising.Pointing out that Hisham Kandeel's government is disappointing as it did not achieve any of the uprising's demands, or even take the necessary measure to safeguard the lives of Egyptians.