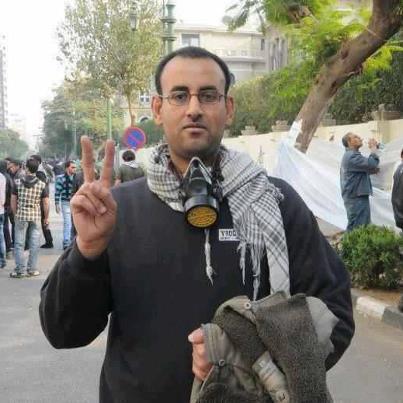 Egyptian Journalist el-Hosseiny Abou-Deif - Photo from Facebook
Egyptian journalist El-Hosseiny Abou-Deif, who was injured in last week's clashes at the presidential palace, was announced dead on Wednesday after spending a week in a coma.
Abou-Deif, 33, worked for privately-owned Al-Fagr newspaper and was shot in the head last Wednesday. He was standing two metres away from where the clashes were taking place, covering the events with his camera, which was confiscated during the attack.
The clashes occurred after the Muslim Brotherhood called on its members to head to the presidential palace to protect "legitimacy", while dozens of protesters were holding their sit-in at the same venue to protest the president's decisions.
Morsi supporters attacked the sit-in, leading to bloody clashes that left at least nine dead.
The Brotherhood has denied that its supporters were responsible for the violence, and has claimed that the majority of those killed were members of the Islamist group.
Several members of the press syndicate council have said that they hold various Freedom and Justice Party members responsible for the killing of Abou-Deif.
The FJP members were accused in police reports of inciting violence against peaceful protesters.
During a press conference held at the syndicate on Sunday, Salem, the brother of the slain journalist argued that the attack on his brother was "deliberate."
"During the clashes a signal was given to people to go and attack El-Hosseiny using a laser," claimed his brother.