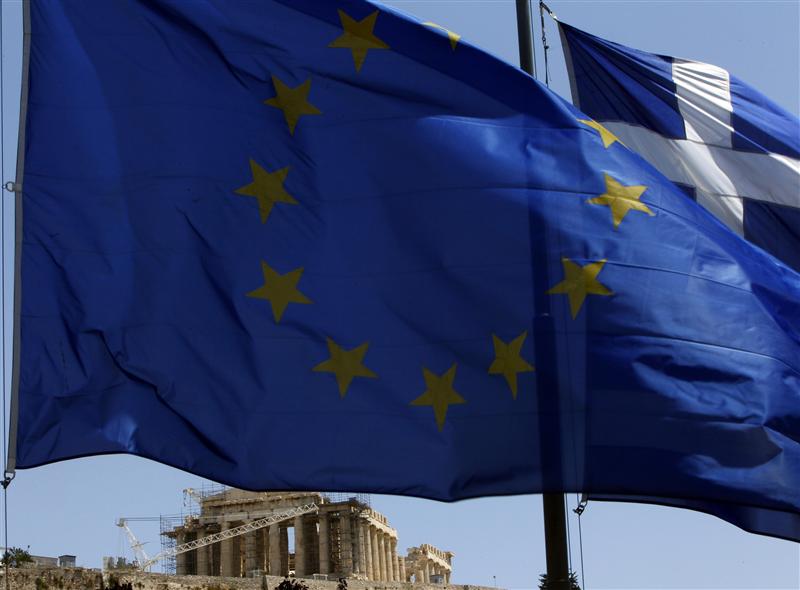 A European Union (E.U.) flag (front) and a Greek flag flutter in front of the monument of Parthenon on Acropolis hill in Athens June 17, 2012. REUTERS/John Kolesidis
CAIRO, Sept 17 (Aswat Masriya) - Egypt summoned on Tuesday European Union (EU) ambassadors commissioned to Cairo in expression of displeasure over the EU's statement on the situation in the country before the 27th regular session of the United Nations' Human Rights Council, said an official statement.

"Egypt rejects the EU statement that represents a negative message at a time when Egypt is fighting terrorism. It also reflects the duality of the European position that is currently mobilising for international support against terrorism," said the statement published on the foreign ministry's Facebook page.

The EU said in its statement earlier on Tuesday that it "continues to be worried about the deteriorating Human Rights situation in Egypt marked by indiscriminate detentions and disproportionate sentencing - including the death penalty."

"The EU is equally concerned with reports of torture in detention centres and sexual assaults on female detainees. The EU is further alarmed by the situation of Human Rights Defenders and NGOs."

Foreign Minister Sameh Shukri instructed Egypt's Permanent Representative in Geneva "to respond to these claims and refute them and to provide a true picture of the situation in Egypt."

"The European statement relied on false charges and false information that came from specific parties and reflects an ignorance of the political and legal systems in Egypt," The foreign ministry statement said.

Armed attacks against security personnel in Egypt have risen sharply since the military's ouster of President Mohamed Mursi in 2013 that followed mass protests against his rule, leaving hundreds dead.