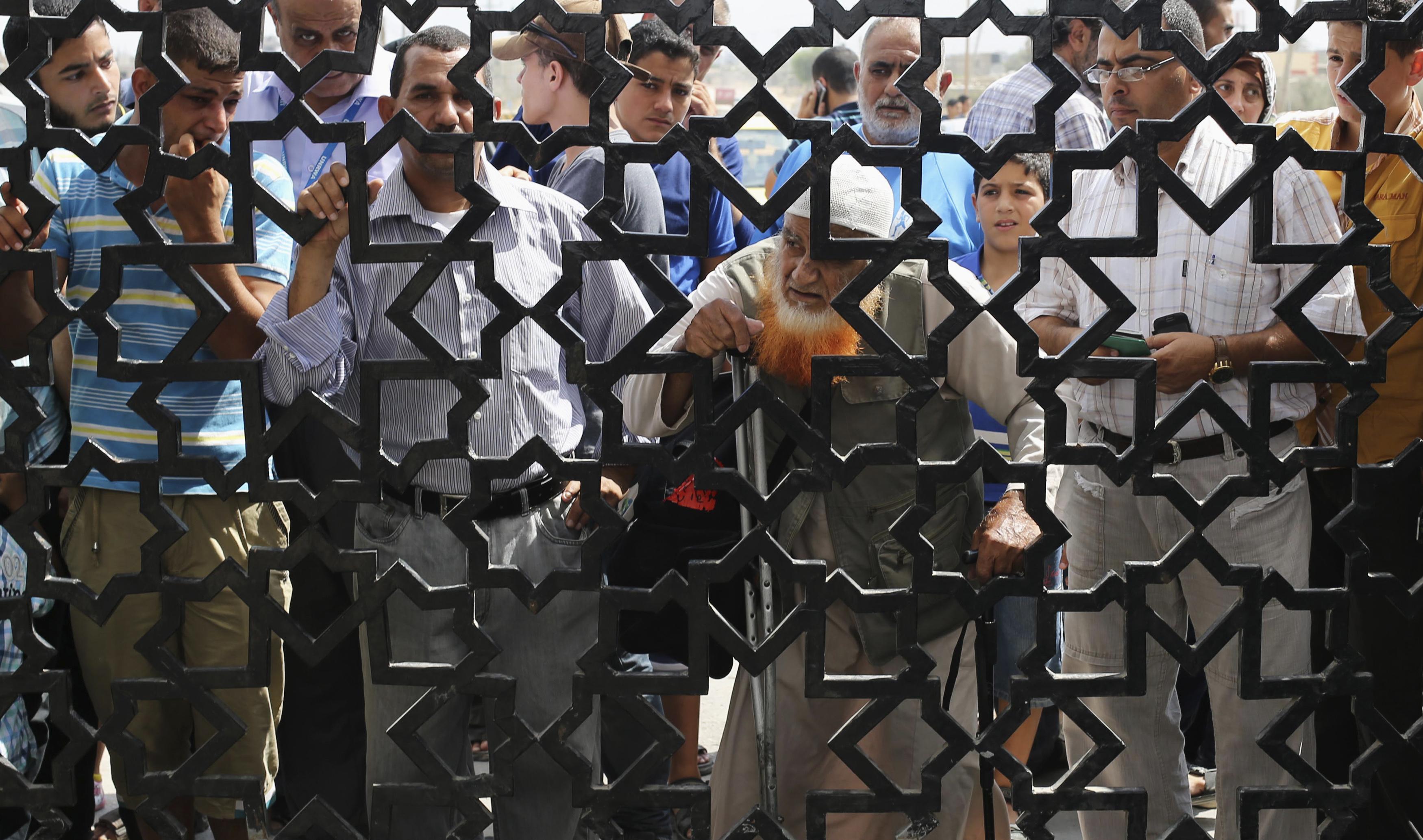 People, hoping to cross into Egypt, stand behind a gate as they wait at the Rafah crossing between Egypt and the southern Gaza Strip August 5, 2014. REUTERS/Ibraheem Abu Mustafa
CAIRO, Jan 12 (Aswat Masriya) – Egypt went back on a decision to open the Rafah border-crossing for three days after the kidnap of a police officer in Sinai on Sunday, a Palestinian official announced on Monday.
Maher Ali Abu Subha, head of the Palestinian Border-crossing Authority, said in a statement that Egyptian authorities notified the authority with its retraction shortly after announcing it will open the border-crossing.
The border-crossing, which connects the Sinai Peninsula to the besieged Gaza Strip, was supposed to be opened in both directions starting Tuesday and until Thursday.
Unidentified gunmen kidnapped on Sunday a police officer working at the Rafah border-crossing, security sources said.
Employees and security personnel working at the border-crossing threatened to strike on Tuesday due to the kidnap of their colleague.
Abu Subha condemned the kidnap of the police officer, describing the abduction as an "irresponsible" act.
"This increases the suffering of the people of the Gaza Strip," Abu Subha said, noting that similar incidents take place whenever an announcement in regards to opening the border-crossing is made.
Abu Subha also expressed his sorrow for the decision not to open the crossing. He said the closure of the border-crossing will maintain the "suffering" of thousands unable to leave the besieged strip.
The United Nations Office for Coordination of Humanitarian Affairs (UNOCHA) said in a report published on January 2 that there are 54,000 people waiting to exit Gaza, citing Palestinian officials.
Egypt closed the Rafah border-crossing on October 25 "until further notice" following a deadly militant attack in Sinai a day earlier which rendered over 30 security personnel killed. The attack was the worst of its kind since the military ouster of Islamist President Mohamed Mursi in July 2013, following mass protests against his rule.
Egypt's President Abdel Fattah al-Sisi declared a three-month state of emergency and a nighttime curfew in parts of the Peninsula in response to the militant attack.
The border-crossing was opened for the first time in both directions on December 21, 2014. It remained opened for three days, allowing 1,100 to cross over from Gaza and 900 to return, the UNOCHA said in its report, citing the director of the Border Crossings in Gaza.
Gaza has been under a land, air and sea blockade enforced by Israel since 2007, after the Islamist group Hamas won the Palestinian legislative election and became in control of the strip. Egypt has mostly kept its border with Gaza closed since then.