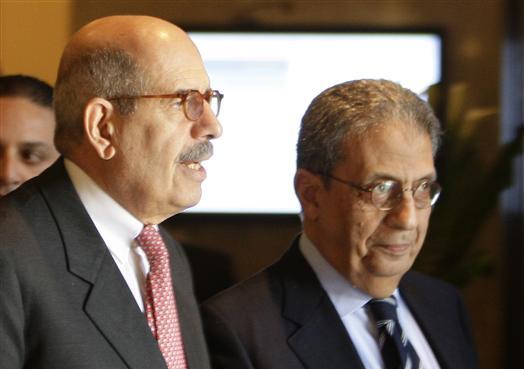 Amr Moussa in a previous meeting with Mohamed ElBaradei - Tarek Mostafa/Reuters
Egypt's National Salvation Front said on Sunday it will not take part in the referendum on the newly-drafted constitution scheduled for December 15.
At a televised press conference held at the main headquarters of al-Wafd Party, the front said it completely rejects the referendum because "it leads to sedition and division".
The front added it rejects the draft constitution "as it entrenches presidential tyranny and takes a hostile stance towards freedoms."
Head of the Bar Sameh Ashour said that holding a referendum amidst what he called threats of the Muslim Brotherhood and of gangs terrorizing protesters threatens the country's national security.
The statement also condemned what it called terrorist campaigns against the media.
Mohamed ElBaradei, founder of the Constitution Party, is a general coordinator of the front. Former presidential candidates Amr Moussa and Hamdeen Sabahi are both members of the front.