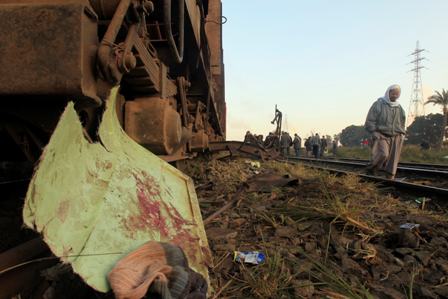 Belongings and traces of blood of victims are seen at the wreckage of a military train crash in the Giza neighbourhood of Badrashin, about 40 km (25 miles) west of Cairo, January 15, 2013. REUTERS/Mohamed Abd El Ghany
Four people were killed in an accident where a train collided with a taxi in the Giza district of Cairo on Wednesday.
Eye-witnesses reported that the driver of the car entered the crossing-point of the trains from the opposite direction after it was closed.
According to witnesses, the taxi driver opened the car door and managed to escape before the collision, which smashed the taxi entirely.
Head of the National Railways Facilities, Hussein Zakaria, said that the collision with the train has disrupted the movement of trains in Upper Egypt, reported the Middle East News Agency.
This accident follows the Badrishin train accident which happened two day earlier, where a train traveling from Upper Egypt to Cairo derailed on Tuesday morning, killing 19 conscripts and injuring 107.
In a similar incident, 50 people, mostly children, were killed when a school bus crashed into a train in a city South of Cairo last November.