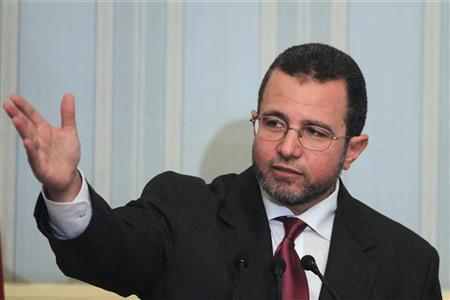 Prime Minister Hisham Kandil - Mohamed Abdel Ghany/Reuters
Discussions for cabinet reshuffles are currently underway and will be announced at the nearest opportunity, Prime Minister Hisham Kandil said on Friday.
The cabinet is working hard even on holidays and weekends to serve the people and meet their needs, the state news agency MENA reported Kandil as saying.
Kandil met with former manager of Oracle Atef Helmy who is a candidate for the post of minister of communications, al-Akhbar newspaper stated.
He also met with executive director of the Electric Utility and Consumer Protection Regulatory Agency Hafez Abdel Aal who is nominated for the post of Minister of Electricity.
The reshuffles will involve the ministries of transportation, communications, electricity, legal affairs, finance, local development, agriculture, and supply.
Kandil is currently reviewing the resumes of a number of candidates nominated for ministerial posts, cabinet spokesman Alaa al-Hadidi said.
Minister of Legal Affairs Mohamed Mahsoub tendered his resignation on Thursday, saying that many of the current governmental policies contradict his personal convictions.
Minister of Communications Hani Mahmoud also resigned last Tuesday citing an inability to "adapt to work requirements in light of the current circumstances".