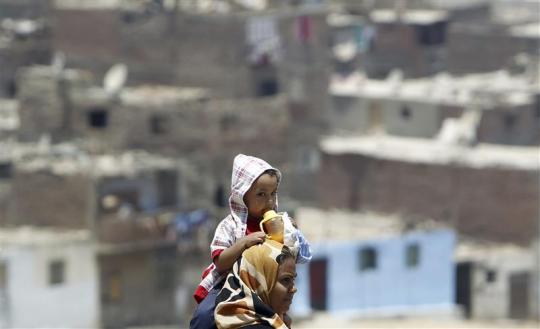 A woman carries her daughter in Mansheyet Naser - Amr Dalsh/Reuters
CAIRO, April 12 (Reuters) - Egypt's minister of electricity and renewable energy said that the government will not be able to prevent power cuts this summer, an acknowledgment of the severe energy crunch facing the most populous Arab country.
"Eliminating blackouts and reducing loads this summer is impossible," Mohamed Shaker said in comments published on Saturday in the state-run Al-Ahram newspaper.
Summer blackouts have hit Egypt in the past few years as successive governments have failed to develop a sound strategy to tap major natural gas reserves even as a rapidly growing population boosted demand for the fuel.
But power cuts have come early this year, ahead of peak electricity use in the summer when many households crank up their air-conditioning units - a sign of the most severe energy crunch in years.
Shaker said the government would try to "reduce to the lowest level possible" but acknowledged that the problem would take "a few years" to resolve.
Political turmoil since a popular uprising ousted autocrat Hosni Mubarak in 2011 has paralysed decision making. Disarray in the energy sector will pose a major challenge for the new government after next month's presidential election, which is expected to be won by former army chief Abdel Fattah al-Sisi, who toppled Islamist President Mohamed Mursi last July.
Failure to find a solution to the current energy crisis could frustrate Egyptians, who rioted in the past over long lines at gas pumps just before the army ousted Mursi following mass protests against his rule.
Struggling to avoid public unrest over blackouts, the government has cut natural gas supplies to factories and decided this month to allow the use of coal for power generation. (Reporting By Stephen Kalin; Editing by Susan Fenton)