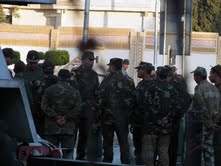 Army forces at the Ittihadeya presidential palace on December 6, 2012 - Aswat Masriya
Cairo, Nov. 15 (Aswat Masriya) - Republican Guards stationed at Cairo's Merghani street stopped a march for allies of former President Mohamed Mursi from accessing the Ittihadeya palace gates on Friday, the Middle East News Agency said.
Participants held banners carrying the Rabaa symbol while chanting slogans to demand the return of the deposed president to power and others to denounce the armed forces and the police.
Supporters of Mursi and the Muslim Brotherhood have organised weekly protests that reached the parameters of the presidential palace since he was removed from office on 3 July.
Today's protests come one day after the state of emergency and the curfew imposed three months ago were lifted.
Egypt's government had declared a state of emergency after two Brotherhood protest camps were cleared by force last August.
Police and army forces sealed off Tahrir and Rabaa squares to traffic earlier on Friday in preparation for the protests which the Brotherhood had called for.
The National Coalition for Supporting Legitimacy has also urged its supporters to demonstrate on Friday to demand a purging of the judiciary.