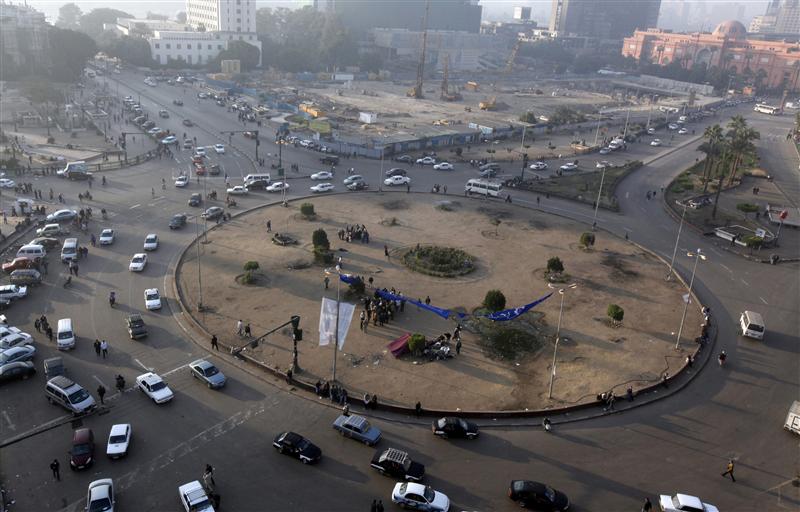 A view shows Tahrir Square as traffic returns to normal despite the presence of protesters in the square, in Cairo December 19, 2011. REUTERS/Mohamed Abd El-Ghany
People began gathering in Tahrir Square early Friday morning, where a podium has been set up ahead of planned protests against sectarianism, Egyptian state news agency MENA reports.
The square remains open to traffic, as do all roads leading to it.
Mazhar Shahin, known as the 'Tahrir Preacher' for leading prayers during Egypt's 18-day uprising in 2011, is expected to lead Friday prayers.
Shahin's work in the Omar Makram Mosque – located adjacent to the square – was recently suspended by the religious endowments ministry after the preacher allegedly criticised President Mohamed Morsi in a recent sermon.
The call for Friday's demonstrations, which has not been formally endorsed by any political parties, was initially issued by the Al-Azhar Preachers' Front, a group of preachers supporting civil state, according to MENA.
Demonstrators intend to protest recent sectarian clashes that broke out last week in the town of Al-Khosous north of Cairo. The clashes left four Coptic Christians and one Muslim dead.
Shortly after the Al-Khosous incident, violence – initiated by unidentified assailants – also erupted outside Saint Mark's Coptic-Orthodox Cathedral in Cairo, where a funeral was being held for the Copts killed in Al-Khosous.