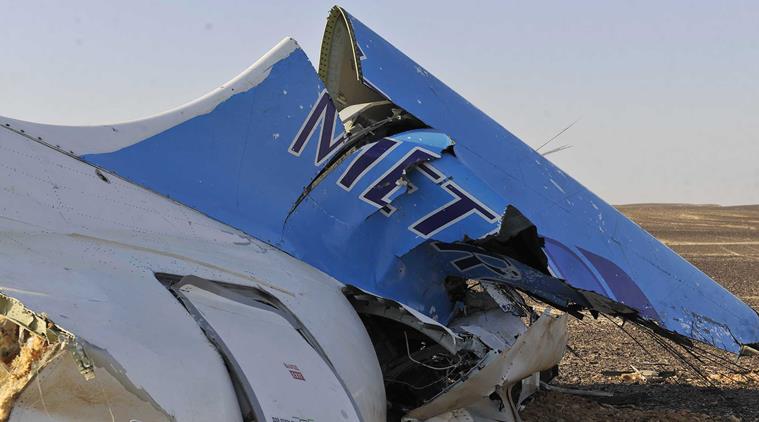 The remains of a Russian airliner which crashed is seen in central Sinai near El Arish city, north Egypt, October 31, 2015. REUTERS/Stringer
CAIRO, Nov.19 (Aswat Masriya) - A tipsy passenger had alerted the crew of a plane heading from Warsaw to Hurgada that there was a bomb on board, forcing the plane to make an emergency landing in Burgas airport in Bulgaria, reported Bulgarian Nova news on Thursday.
However, when the 161 passengers and crew were evacuated, no explosive devices were found, reported Reuters, citing the spokeswoman of Burgas airport. She added that the passenger who alerted the crew had admitted to consuming alcohol.
A Russian airliner crashed in Sinai last October, killing 224 passengers on board, in what the Kremlin has concluded was a "terrorist act", a claim that Egyptian officials and an international investigation has refuted, saying that so far there is no evidence of criminal activity.
There has been at least one other bomb threat on a plane since the Russian announcments, which has also turned out to be false.
According to CBC news, no explosives were found aboard two separate Air France planes that were diverted to Halifax and Salt Lake City due to bomb threats on Tuesday.
In a 66-page long issue of the ISIS rag called Dabiq, the group showed two images related to the Russian jet disaster, one of passports purportedly belonging to some of the 224 passengers, mostly Russian holiday makers, killed in the crash. The other is of a fizzy drink can with the caption "EXCLUSIVE - Image of the IED used to bring down the Russian airliner."
ISIS had twice claimed responsibilty for the downing the plane, once right after the incident and a second more detailed time an audio recording.