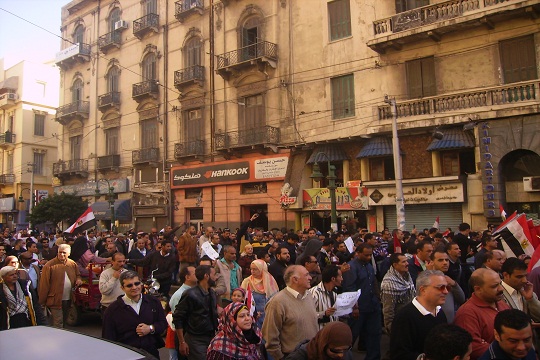 Protests in Alexandria on December 7, 2012 - Aswat Masriya
Thousands of protesters marched on Friday from al-Qaed Ibrahim Mosque in Alexandria headed to Ras al-Tin presidential palace to denounce Wednesday's bloody clashes and demand that President Mohamed Mursi rescind the constitutional decree he issued last month.
The protesters shouted anti-Mursi and Muslim Brotherhood slogans such as "Down with the rule of the Guide" in reference to the brotherhood's spiritual guide and "Rise, rise our country ... We do not want a constitutional decree".
They also held banners that said "No to the constitutional decree" and "The people demand the execution of the president".
A number of political powers and activists in Alexandria had called for demonstrating in front of Ras al-Tin as part of the escalation of political powers in the city after their demands had been rejected.
On their part, security bodies stepped up security measures around the palace.
Clashes between Mursi supporters and opponents on Wednesday at the presidential palace in Cairo left six dead and hundreds injured.