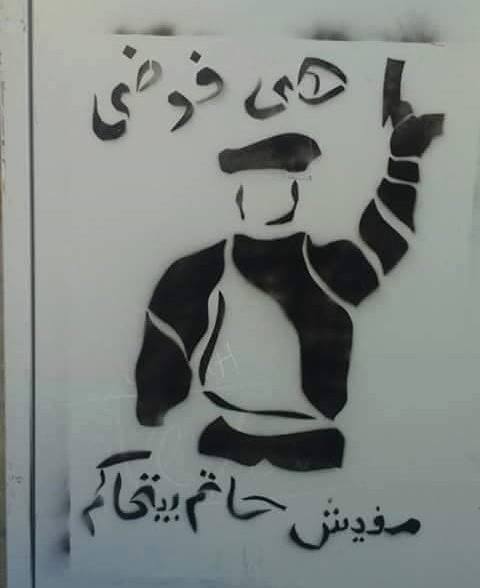 Graffiti featuring a police officer carrying a gun taken from a popular Egyptian movie "Chaos".
LUXOR, Dec.4 (Aswat Masriya) - Luxor's general prosecutor ordered Friday the detention of four police officers for four days pending investigation, on charges of torturing Talaat Shabib to death at the Luxor police station.
The decision came followed the release of the forensics report, which confirmed the existence of "an injury to the man's body, which led to his death," state-owned MENA news agency said.
The report, released Thursday evening, said that "the deceased suffered a blow to the neck and the back, resulting in a cut in the spinal cord and his death."
Police arrested Shabib, 47, on Tuesday at a cafe at 11 pm in the al-Amawya district, on suspicion of possessing Tramadol, a pain killer used ubiquitously as a recreational drug in Egypt. He was allegedly killed of torture inside the police station, two hours after his arrest.
Sources in Luxor told Aswat Masriya that his family received information two hours later (1 am on Wednesday) that Shabib died on his way to Luxor International Hospital, triggering protests in front of the police station against what they believe was the killing and torture of Shabib by police.
Security forces dispersed the protest using tear gas and arrested 24 people, who were released Thursday morning, state run MENA news agency reported.
Luxor's prosecurtor Ahmed Abdel Rahman said Thursday that an extensive investigation is underway and that the prosecution is not biased, noting that the "forensics report will prove whether or not the citizen was subjected to torture before his death."
He added that in case allegations of torture are confirmed, those responsible will be held accountable for their actions.
In a speech he gave at the Police Academy Thursday morning, President Abdel Fattah Al-Sisi downplayed the seriousness of police transgressions saying that the number of cases of police misconduct is small compared to the number of police stations nationwide, just as he commended the quality performance of the police force under increasing pressure.
Police brutality was one of the triggers of the Jan. 25, 2011 uprising, sparked by protests on Police Day in Egypt aimed to draw attention to the police's use of excessive, at times fatal, violence.