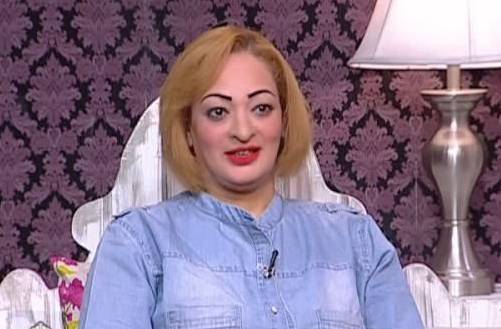 Female bodyguard Naglaa Mohamed during a television interview. Screen grab from televised interview
Naglaa Mohammed received a phone call from her friend with a surprising offer to be her personal bodyguard. She jumped at the chance and has not looked back since.
The stocky 41 year old former zookeeper and housewife is keen to change perceptions of Egyptian women with her unusual new job. Egypt has an endemic societal problem of sexual harassment where 99.3% of Egyptian women have reported being harassed, according to a UN report.
"I take care of young women going to university or businesswomen or Gulf women who are holidaying in Egypt," she told Aswat Masriya. "They prefer to have a woman protecting them."
More Egyptian women are turning to female bodyguards as they would like to have their protection in increasingly unsafe public spaces.
Sexual harassment remains an important topic that stirs Egyptian public opinion because of its rife occurrence. Recently, a well-known Egyptian television host was fired from her popular program with social media pressure after she had chided a sexual harassment victim on air. Taxi-hailing service Uber last week announced that it was partnering up with a local organization to provide training for all its drivers about sexual harassment.
Mohammed had worked temporarily as a security guard at a zoo and is now contracted with a security firm to provide protection services.
Falcon Group International, one of the biggest Egyptian security firms known for providing services to banks and university campuses, was one of the first companies to train women in martial arts and self-defense. The company identified a gap where female security guards were needed in hotels, shopping centres and other retail sectors.
"For me this job is great because I get to be my own boss. The flexible hours work better for my household compared to when I had set hours at the zoo," Mohamed said.
She has not faced many situations where she is required to use physical force but noted that one time had to throw back fish in the zoo's lake after a patron was illegally trying to fish there. Another time she hit a man who had harassed her daughter.
Mohammed takes pride in her work. With a clean pressed uniform and a tightly wound bun under a veil or a baseball cap, she is keen to command respect from the public.
"At home I keep my femininity, but with my job people have to respect and fear me with the way I look," she said. "They have to know that I am a female bodyguard, not just a woman."
Besides the physical threats she faces, Mohammed also encounters the stigma of a society with entrenched gender roles. She has been questioned by onlookers about the nature of her profession and how she allows herself to acquire a job traditionally performed by men.
Mohammed is unfailingly enthusiastic though noting that her husband is supportive and her daughter wants to follow in her footsteps. She is not armed and is clear eyed about her duties not maintaining any friendships with her clients
"One hit below the belt is enough. My job is to protect women and that's it."
(Reporting by Rahma Diaa; Writing by Farid Y. Farid)