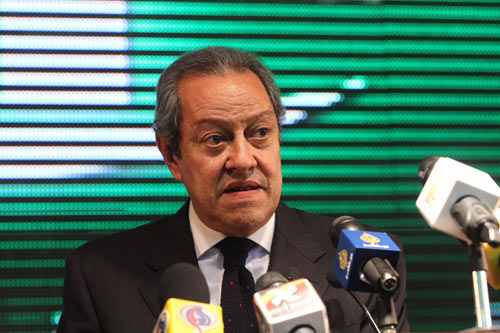 Tourism Minister Mounir Fakhri Abdel Nour
By Nayrouz Talaat
Minister of Trade and Industry Mounir Fakhri Abdul Nour said that Egyptian exports have decreased by 45 percent, a huge fall, in the first half of 2013 compared with the same period last year.
Meanwhile, Qualified Industrial Zone (QIZs) exports to the US have also fallen by 17 percent, according to a Ministry of Trade and Industry press release.
The statement came during the minster's meeting with the newly formed Egyptian-American Business Council to set forthcoming plans to regain confidence in local exports to the US market.
The US-Egyptian decrees regarding the political situation in Egypt play a role in slowing trade between the two countries.
"Developing economic relations between Egypt and the US should top the priorities of the Egyptian-US Business council that will focus on setting an integrated view on increasing Egyptian exports to the US market, especially that there is a number of US companies successfully investing here," Abdul Nour said.
On his part, Hani Mahna, the head of the Egyptian delegation in the Egyptian US Business Council said that the council focuses on developing relations between the two sides through holding meetings with the US delegation.
He added that the council is to visit Washington next month to clear the image of the Egyptian political situation to the US congress members as well as a number of business councils.