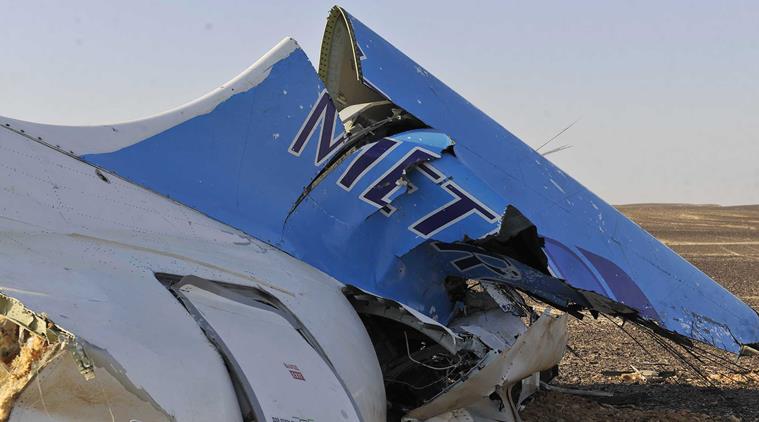 The remains of a Russian airliner which crashed is seen in central Sinai near El Arish city, north Egypt, October 31, 2015. REUTERS/Stringer
CAIRO, Dec. 11 (Aswat Masriya) - Russian Deputy Prime Minister Arkady Dvorkovich said that Russian air safety audit team in Egypt completed its task and that "it prepared recommendations on improving safety systems," reported TASS Russian news agency.
Dvorkovich further said that Russia sent experts to Egypt to discuss boosting safety measures in Egyptian airports.
However he declined to disclose information about the recommendations.
Russia decided to halt all flights to Egypt in November days after the crash of a Russian passenger flight carrying 224 people on board, most of whom were Russians. The crash killed all 224 passengers an crew on aboard.
The plane took off from the resort city of Sharm el-Sheikh in the early hours of October 31 and was heading to St. Petersburg in Russia.
ISIS affiliates in Egypt, formerly known as Ansar Bayt al-Maqdis before renaming themselves "Sinai Province", claimed responsibility for downing the Russian plane twice.
An Egypt-led international committee is still investigating the incident and has officially said that "all possibilities are on the table" but that it is too early to jump to conclusions.
Russia, however announced on November 16 that the downing of the plane was a result of "a terrorist act" after doing a separate investigation into the causes of the crash.
Federal Security Service Cheif Alexander Bortnikov said in a meeting with Russian President Vladimir Putin that an examination of passengers' belongings, luggage and of fragments of the crash revealed that there were traces of "foreign-made explosives," read a Kremlin statement at the time.
The statement added that the Russian investigation concluded that a homemade explosive device equivalent to 1 kg of TNT was set off on board.
Within days from Russia's announcement, the Egyptian Holding Airport and Air Navigation Company activated a security check plan involving renewing and replacing the airport radiation scanners for passengers, cargo, luggage, parcels and even vehicles.
The plan is to be implemented in airports nationwide at a cost of EGP 175 million.
According to TASS, the Russian Deputy Prime Minister Olga Golodets said last Tuesday it's "early" to speak about the resumption of flight service to Egypt.
"As soon as the Egyptians ensure comprehensive security system, we will be able to speak about it as the price paid by Russian citizens was too high," reported TASS citing Golodets.
The crash was another blow to Egyptian tourism which was slowly inching towards recovery. Egypt fears that the ramifications of this incident will be bad news for its tourism sector, a vital source of much-needed hard currency.