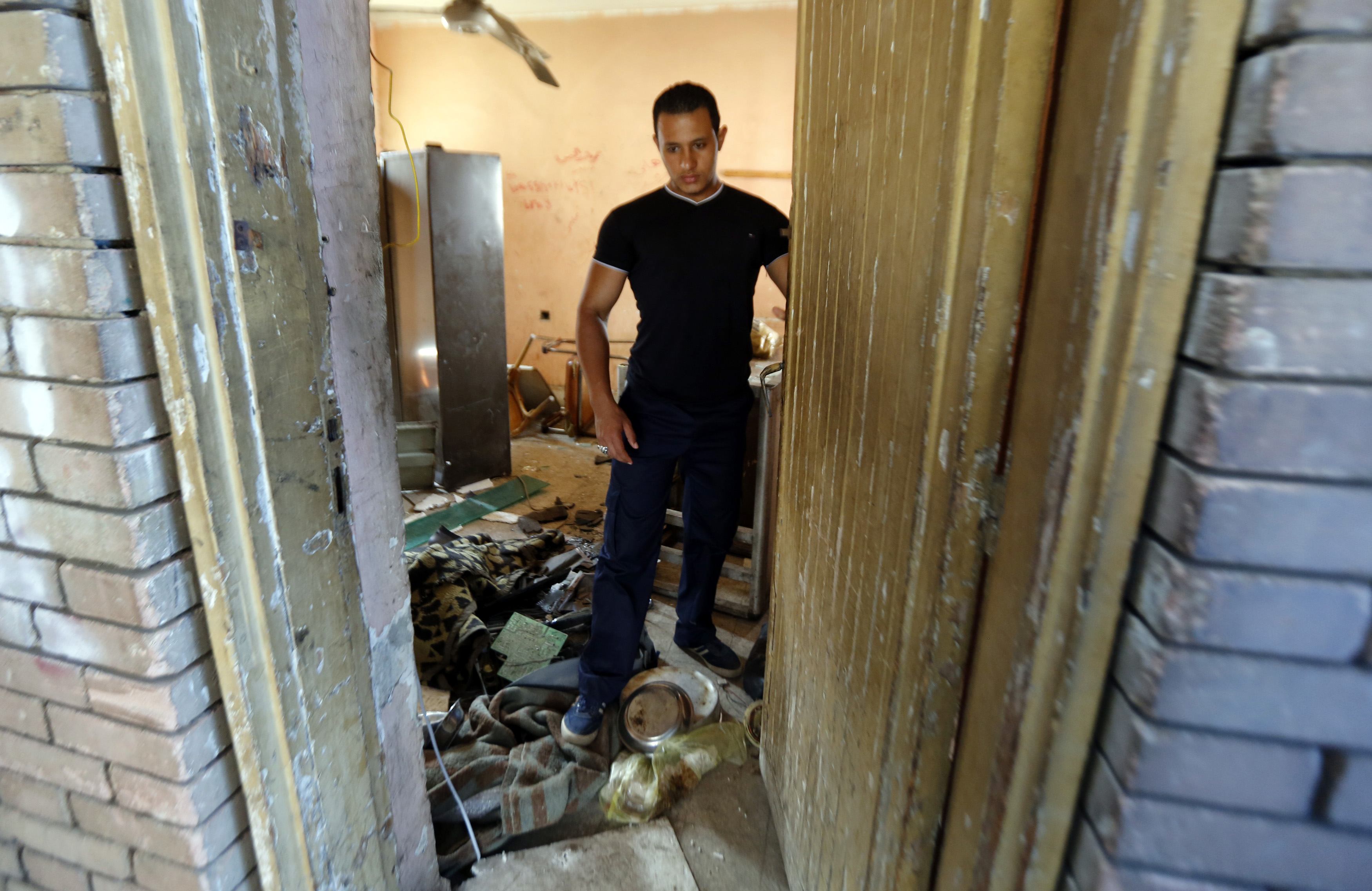 A member of Falcon, a private security company, conduct a search at a security office which was damaged during clashes between students, security personnel and demonstrators from a pro-Muslim Brotherhood movement known as the Students Against the Coup, at a gate of Al-Azhar University in Nasr City district October 12, 2014. REUTERS/Amr Abdallah Dalsh
CAIRO/ALEXANDRIA, Oct 14 (Aswat Masriya) – Security forces detained 30 students at the University of Alexandria on Tuesday during violence which erupted following on-campus protests, the ministry of interior said.
The ministry said in a statement that around 250 students gathered on campus and began vandalising one of the gates and pelting security personnel outside the university with rocks.
The violence left four students injured. They include a female student who broke her leg as she fell down the stairs while trying to flee the scene of violence.
Other injuries included suffocation from the teargas used by security forces to disperse the protest as well as a fractured skull, said the University of Alexandria's Administrative Security Director Hani al-Kafoury.
The university's president ordered the entrance of security forces into campus to disperse the student protests.
The Association for Freedom of Thought and Expression said its Student Observatory had counted the arrest of 127 students since the start of the academic year on Saturday and until Tuesday afternoon.
Some were arrested from the vicinity of their universities, while others were taken from their homes.
Those arrested include 15 students from Cairo University, 16 from the University of Alexandria, and nine from al-Azhar University.
Eight domestic civil society organisations condemned the arrest of students during the past three days in a statement released on Tuesday. The organisations accused the authorities of targeting "Student movement leaders", including leaders from the pro-Mohamed Mursi "students against the coup" movement. The added that other students were randomly arrested from the vicinity of the universities.
University campuses have witnessed unprecedented violence throughout the past academic year, with at least 16 students killed amid on-campus protests, according to the Association for Freedom of Thought and Expression's Student Observatory.
The "Students against the coup" movement has been organising protests against the former Islamist president's military ouster throughout the past academic year. Protests have often devolved into clashes with security forces.
Before the start of the academic year on Saturday, the cabinet discussed measures to be adopted during the year to quell any possible tension.
Minister of Higher Education Sayed Abdel Khalek hired a private security company on September 24 to guard 12 public universities during the coming academic year.
Strict security measures adopted by Falcon Security Services at the university gates nevertheless triggered violence from the students, who became frustrated with their delayed entrance into campus.
Falcon's CEO Sherif Khaled told Aswat Masriya that the company had lost 30 thousand Egyptian pounds during the first two days of the academic year.