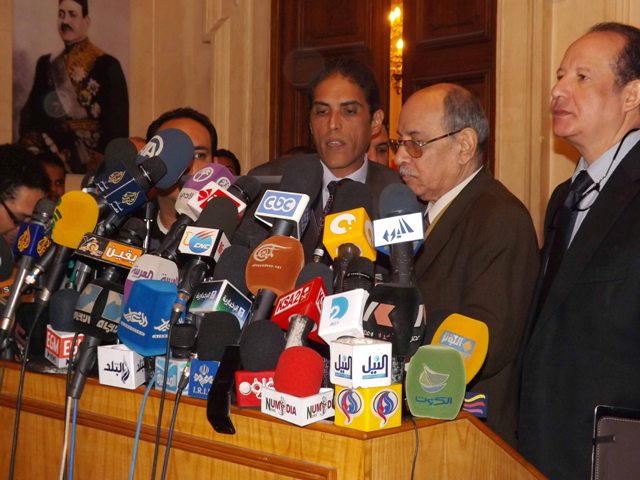 A National Salvation Front press conference - Aswat Masriya
Egypt's National Salvation Front said on Wednesday that the Administrative Court's decision to suspend the parliamentary elections came as a natural consequence to the Muslim Brotherhood's trial to accelerate their empowerment plan over all the state institutions.
The Front, Egypt's biggest opposition group, called on the presidency to respect the court order.
The Front warned against letting the supporters of the Brotherhood siege the Constitutional Court to prevent it from doing its job again, referring to the incident when the supporters of the Muslim Brotherhood besieged the Constitutional Court to prevent it from issuing a court order on the constitutionality of the Shura Council (Upper house of the parliament) and the Constituent Assembly.
In a statement issued by the Salvation Front, it said, "The Court order confirms that the legal basis we depended on when we requested delaying the elections were correct."
"There should be consensus on the election law by all political forces, to guarantee stability for Egypt, rather than repeating the series of appeals to the validity of the laws governing the voting process," said the statement.
The Salvation Front stressed that the court's decision confirms that the election law has been prepared hastily by the Shura Council, which is controlled by the Muslim Brotherhood.
The Front stressed that the refusal to compromise and to listen to the demands of the opposition distinguished the presidency's reaction to everything they put forward in hope to bring Egypt out of its constant deterioration and the continued bloodshed in Port Said, Mansoura, Cairo and Gharabia.
The Front criticized "the Muslim Brotherhood's clear pursuit of deception to Egyptians, in order to convince them that the parliamentary elections which are going take place during four months are the only exit from all the current crises."