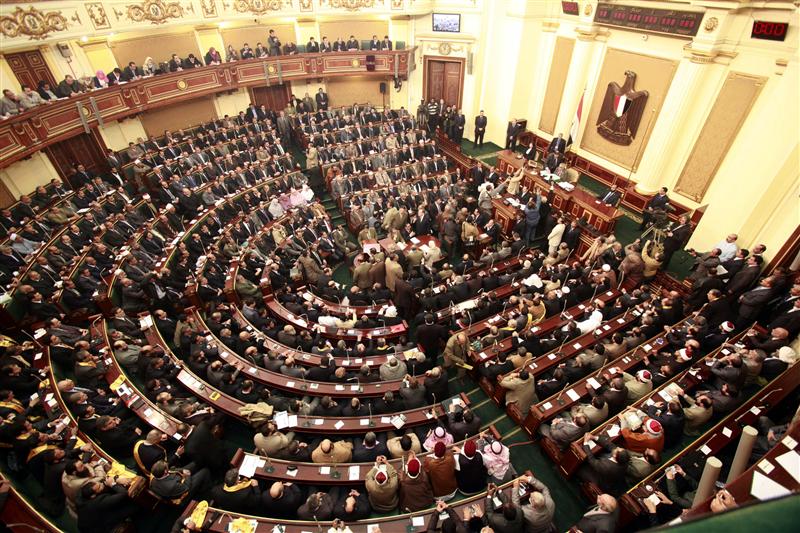 Inaugural session of parliament - Asmaa Wageeh/REUTERS
Egypt's Shura Council (upper house of parliament) will not issue bills before conducting a comprehensive national dialogue to avoid future conflicts, said a member of the council.
Gamal Eshmat of the Muslim Brotherhood's Freedom and Justice Party told a Jordanian newspaper on Thursday that members of the council are determined to legislate bills that push the economy forward, including an "Islamic bonds" bill.
The upper house intends to establish a board to monitor Islamic finances and another for fatwas and Islamic observations, Eshmat said.
The parliamentarian added that the council also intends to legislate a bill to protect freedom of expression and peaceful demonstration, another to combat thuggery, one for minimum and maximum wages and finally a bill dedicated to disabled Egyptians.
He added that the council's human rights committee will soon begin extending invitations to interested bodies to conduct dialogues on the previously mentioned draft bills.
Now that the constitution has passed, the Shura Council has assumed legislative power from President Mohamed Mursi who temporarily held it following the dissolution of the People's Assembly.
The Shura Council, who convened on Wednesday following the appointment of 90 new members, is expected to draft a new parliamentary elections law to pave the way for the election of a lower house of parliament within the next two months.
Mursi signed into effect on Tuesday a charter written by his Islamist allies, who supported him into office, after more than 60 percent of Egyptians showed their approval through a two-stage referendum.
Opposition forces have widely criticized and protested the text accusing it of favoring Islamists and undermining human rights and social freedoms. Islamists however believe that the charter will help pave the way for stability and economic recovery.