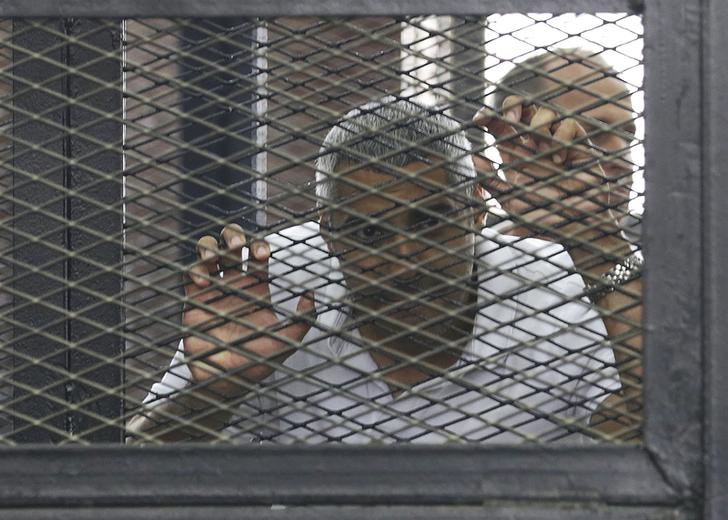 Mohamed Fahmy stands behind bars as he waits to listen the ruling at a court in Cairo June 23, 2014. REUTERS/Asmaa Waguih
CAIRO, June 25 (Aswat Masriya) An Egyptian-Canadian journalist who was sentenced to seven years in prison on Monday has decided to donate 15,000 Egyptian pounds to Tahya Misr (Long Live Egypt), an initiative started by President Abdel Fattah al-Sisi, his brother said.
Mohamed Fahmy was among three Al Jazeera journalists who were charged with spreading false news to defame Egypt for the sake of a terrorist organization in a case known as the "Marriott Cell".
In a telephone call, his brother, Adel Fahmy, explained that his family is expected to make the donation tomorrow on behalf of his convicted brother.
He added that he hoped that the donation would make Sisi consider pardoning his brother whom he said could not be further from belonging to the Muslim Brotherhood, which was declared a terrorist organization towards the end of last year.
With Fahmy, award-winning Australian journalist Peter Greste was also sentenced to seven years while Baher Mohamed was sentenced to seven on the same charges and an additional three years for arms possession.
Eleven fugitive defendants were also sentenced in absentia to 10 years in prison on Monday while two were acquitted.
In a speech on Tuesday, Sisi had promised to give up half his salary for Egypt, calling on Egyptians to do the same to help the ailing economy.
Egypt's economy has suffered since 2011 due to political unrest that has kept tourists and foreign investors away.