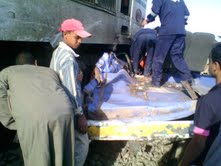 Assiut train accident on November 17, 2012 - Aswat Masriya
Reactions of political powers varied on the Assuit school bus disaster. While the Muslim Brotherhood's Freedom and Justice Party (FJP) welcomed the resignation of Transport Minister Mohamed Rashad al-Matini, several parties and political forces demanded sacking Prime Minister Hisham Kandil's cabinet.
Fifty people, mostly children, were killed and fifteen others were injured when a school bus crashed into a train as the bus was trying to cross tracks in Assiut's Manfalout.
The FJP demanded the swift trial of the culprits responsible for the railway disaster.
On the resignation of the transport minister, the party said that the minister's resignation is "a democratic tradition missed in the past".
Deputy head of the FJP Essam al-Erian welcomed the resignation of al-Matini for his political responsiblity for the accident.
Too many train and road accidents in which Egyptians are killed only means that "their lives are the cheapest thing in this country", the Popular Current said in a statement issued on Saturday.
The statement expressed its rejection of the continuation of negligence and dereliction policies towards the lives of the people.
"Developing the railway system in Egypt comprehensively can no longer be delayed," the statement added.
The resigned transport minister must be put forward for trial, founder of April 6 Movement Ahmed Maher said in a statement the movement issued on Saturday morning.
Maher held President Mohamed Mursi accountable for the disaster, saying, "The president is not exempt from responsibility. He is the one who chose this failed government."
Maher also called for "cleansing the state institutions from corrupt and failed officials as well as remnants of Mubarak's regime."
The Free Egyptians Party secretariat in Minya on Saturday called for sacking Kandil's government after Manfalout's tragedy.
It also called on the government "to give Egypt's children and the victims of this disaster the same treatment they give to Gaza's people".
The regime has not changed since the blood of Egyptians is still cheap, the party's secretariat said.
Grand Sheikh of al-Azhar Ahmed al-Tayeb offered condolences on behalf of al-Azhar and its scholars to the families of the victims.