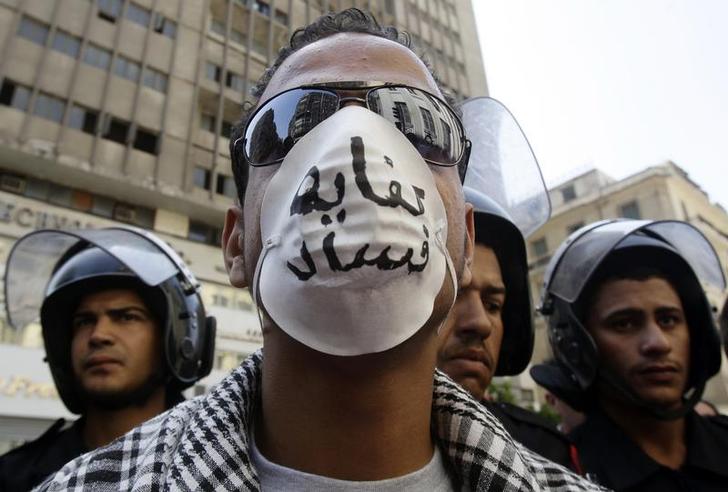 A protester takes part in a demonstration, wearing a face mask that reads "Enough Corruption", during the second session of the trial of Ahmed Abu Duma, an activist and opposition writer, at Abdin Court in Cairo May 15, 2010. Abu Duma was arrested on May 3, 2009 during a demonstration organized by the opposition and political leaders against a decades-old emergency law that permits indefinite detentions. His charges include vandalism and assault on civil employees, according to his lawyer Osama Sedqi. REUTE
CAIRO, Dec 16 (Aswat Masriya) - Financial and administrative corruption in the government apparatus has exceeded 100,000 cases this year, the administrative prosecution spokesman said in statement on Tuesday.
The nature of these cases was not disclosed.
Private regulations allowed for the squandering of millions of Egyptian pounds on high officials' rewards and nepotism, Abdel Nasser Khattab added in a statement.
Ranked the 94th least corrupt country out of 175, Egypt's integrity score improved by five points in 2014, according to Transparency International's 2014 Corruption Perceptions Index (CPI).
The index, released annually by Transparency International to track corruption levels worldwide, reported that Egypt's integrity level scored 37 out of 100 this year, as opposed to 32 last year.