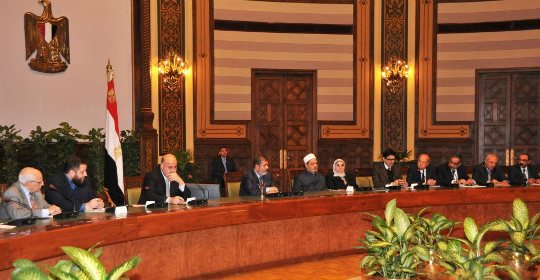 President Mohamed Mursi at a national dialogue session with some political powers and a wise men committee on December 8, 2012 - photo from presidency
President Mohamed Mursi's advisor for political affairs, Pakinam Sharqawi, said on Tuesday that the political forces that participated in the national dialogue represent the main political trends in Egypt.
Sharqawi confirmed that the presidency will persist to invite all the national forces for dialogue.
"Personally, I will not lose hope," she said in a press conference regarding Monday's session of the national dialogue.
The National Salvation Front, Egypt's main opposition group, had rejected Mursi's call for dialogue saying that he did not respond to their demands which included the formation of a national salvation government to implement the demands of the revolution.
Sharqawi discouraged an initiative put forward by Chairman of the Ghad al-Thawra Party, Ayman Nour, to immediately form a national salvation government to replace Hisham Kandil's current government.
She said that Kandil's government is a "Caretaker government until the elections."
Sharqawi added that the rest of the dialogue did not welcome the idea either since the parliamentary elections are scheduled to begin in less than a month.
She urged political forces to prepare for the upcoming parliamentary elections in order to take part in the next government.