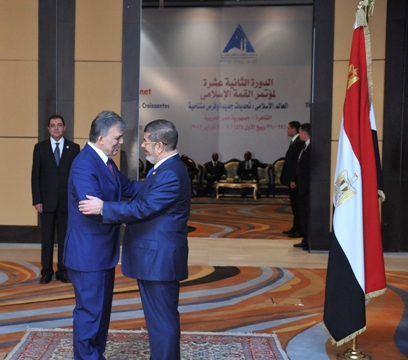 Egyptian President Mohamed Mursi (R) greets Turkish President Abdullah Gul before the opening of the Organisation of Islamic Cooperation (OIC) summit in Cairo February 6, 2013. REUTERS/Egyptian Presidency/Handou
Egypt's President Mohamed Mursi on Thursday discussed with his Turkish counterpart Abdullah Gul ways to strengthen relations between the two countries in economy, trade, and investment.
The two presidents discussed cooperation between Egypt and Turkey in a meeting which delegations from both countries attended.
The discussions focused on enhancing collaboration between the two countries in trade and investment on the sideline of the Turkish president's visit to Egypt to participate in the Islamic Summit conference, the Middle East News Agency (MENA) reported.
Turkey had offered Egypt a $2 billion aid package to boost foreign reserves and back investments in infrastructure.
A $160 million investment deal was signed during the meeting between Mursi and the Egyptian-Turkish business council.