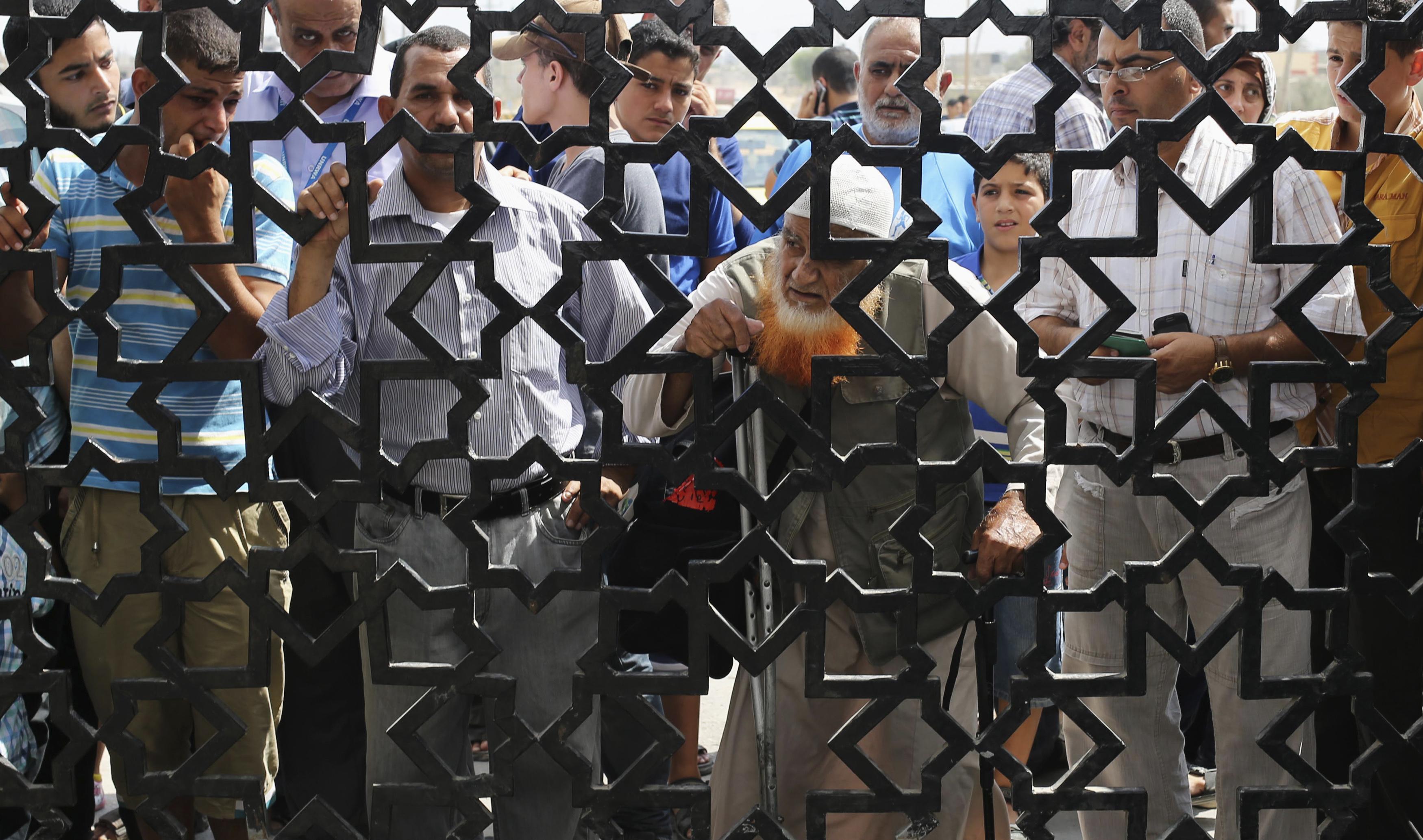 People, hoping to cross into Egypt, stand behind a gate as they wait at the Rafah crossing between Egypt and the southern Gaza Strip August 5, 2014. REUTERS/Ibraheem Abu Mustafa
CAIRO, Aug 10 (Aswat Masriya) - Egypt's Ministry of Foreign Affairs stressed on Sunday it has been "keen on constantly and exceptionally opening" the Rafah border-crossing, connecting Egypt to the Gaza Strip, which has been facing an Israeli offensive for the past month.
"Over 7500 people were allowed to cross to and from Rafah," a foreign ministry statement read. It added that Egypt allowed the entrance of over 1200 tonnes of medical aid into the besieged strip.
The health ministry announced in a statement on Sunday that Egyptian hospitals have received 216 injured Palestinians since the beginning of the Israeli offensive on July 8 and until Saturday.
Of this number, 21 have died while 160 remain hospitalised in 18 different hospitals. The remaining patients have been treated.
The foreign ministry stressed that Egypt will resume its "practical" measures to lift the siege on the Gaza strip. It called on the international community to "bear its responsibility for easing the suffering of the Palestinians and stopping the bloodshed of the innocent."
On Sunday, Egyptian Foreign Minister Sameh Shokri met with David Satterfield, the United States' special envoy to Libya, to discuss the latest regional developments. They addressed Egypt's efforts to secure a ceasefire agreement in Gaza.
A three-day ceasefire agreement brokered by Egypt expired on Friday, triggering a return to the violence which has left over 1900 Palestinians and 67 Israelis killed.
A Palestinian delegation arrived in Cairo last week to attend the negotiations over the ceasefire agreement. The delegation is not expected to leave before Monday, when it is scheduled to attend an Arab League emergency meeting over the Gaza crisis, reported state-run news agency MENA.