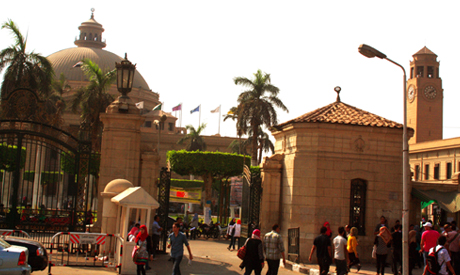 Cairo University - Reuters
By Osman El Sharnoubi

On Sunday students flocked to Cairo University, Egypt's largest centre of higher learning, for the first day of a new academic year.

Despite calls by some groups which support ousted president Mohamed Morsi for civil disobedience, the campus buzzed with activity.

There had been concern that the political turbulence that Egypt has seen since Morsi's ouster in July would affect university life. Ongoing protests, security crackdowns and the imposition of a daily curfew all threatened to disrupt the annual ritual of a new academic year.

A few hundred students responded to Islamist calls and held a protest on the huge campus in Giza Sunday morning, chanting against the police and in support of Morsi.

But most students at Cairo University were relaxed.

"The new semester started without any trouble," law student Tawfik Amer told Ahram Online.

"The Muslim Brotherhood was hoping to disrupt the school year but what happened today is normal. It happens at the beginning of every term," Amer said.

A protest on campus is a common sight during the first week of classes, Sherif Mohamed, who also studies law, told Ahram Online.

According to Mohamed, who was sitting on the grass by the main campus entrance, students usually express their grievances at the beginning of term, and a protest was not remarkable.

"As you can see, everything's normal," Mohamed said waving his hand towards the gate where students were entering and exiting campus.

However, Omar Saher, a student and a member of the Socialist Popular Alliance Party told Ahram Online that revolutionary students also have demands and will protest to achieve them.

Saher said that the students' primary demand is the release of classmates detained during Morsi's presidency as well as under the current government, which he dubs "military rule."

Another important issue for Saher is the possibility that powers of arrest could be granted to university security guards.

Saher says that such a move could lead to the return of the discredited security practices of the Mubarak regime, which tried to intimidate political students.

There were reports recently that Minister of Higher Education Hossam Eissa had granted arrest powers to campus security guards, but he subsequently denied the reports and said that he supported students' rights to be politically active.

There is some overlap between the Brotherhood students' demands and that of Saher's group, although he argues that the pro-Brotherhood students only support the release of detainees arrested after Morsi's ouster, not during his presidency.

However, Saher says that his group will never join forces with the pro-Brotherhood students due to major political differences.

"Everyone has the right to voice their opinion. Politics is based on differences of opinion and outlook. If you want to call for civil disobedience, go ahead; however, I have the right to join or abstain from doing so," Saher said.

While students made their way through the labyrinth of buildings that constitute the university campus, fresh graffiti has been added condemning Minister of Defence Abdel Fattah El-Sisi and what Morsi supporters dub a "bloody coup."

To the backdrop of the fresh paint, some of which was drawn on Sunday, older political graffiti can be seen showing numerous stages in Egypt's tumultuous political life since the 2011 revolution.