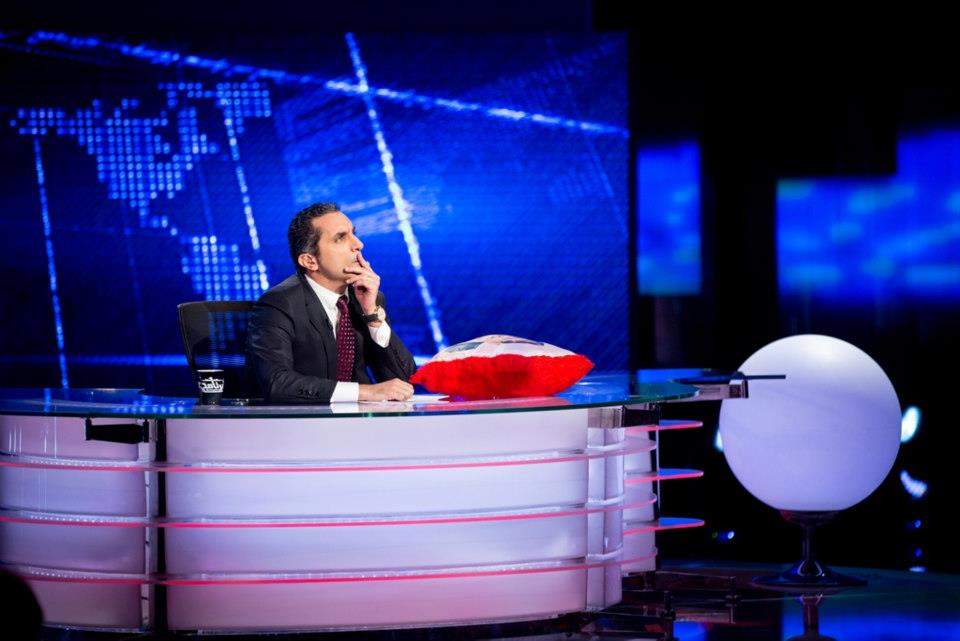 Political Comedian, Bassem Youssef in episode of his weekly show. - Photo from Facebook.
An Egyptian court set the date of April 6 on Saturday to rule in the case filed against the satellite channel CBC to supspend its license for presenting the satirical show "Al-Bernamag" that is hosted by prominent television host Bassem Youssef.
Youssef hosts a weekly evening political satire show on Friday which has been a major success since it premiered in November on CBC channel.
Several lawsuits have been filed against Youssef to ban his weekly show, accusing him of insulting President Mohamed Mursi, violating the social code of conduct and defaming religious scholars.
The lawsuit filed against the political satirist's show claimed that the show continue to "mock the president and ridicule the public," in addition to the "sexual implications that go beyond the bounds of objective criticism onto to defame state symbols and violate values of society."
It also accused the popular weekly show of violating the principles stipulated in successive constitutions.
"The show breaches article 81 of Egypt's current constitution which stipulates that the exercise of freedoms should not oppose elements of the state or society. In addition, article 31 states that society should ensure respect and protection for all humans and that they should not be insulted in any form," said the lawsuit.
The lawsuit pointed that "the show contradicts Islamic and Egyptian values. It also violates the principles of satellite broadcasting which obligates presenters not to negatively impact social peace, national unity or public morals."