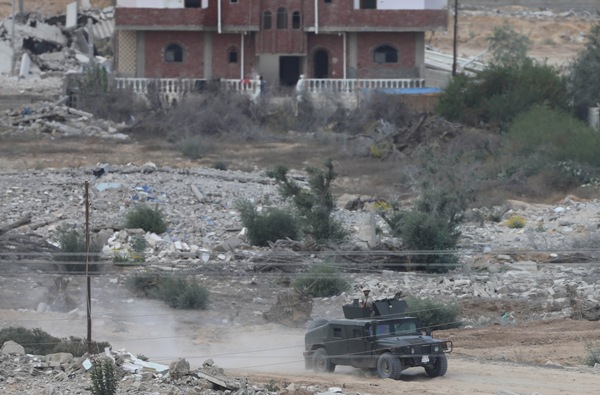 An Egyptian soldier keeps guard during a military operation in the Egyptian city of Rafah, near the border with the southern Gaza Strip October 30, 2014. REUTERS/Ibraheem Abu Mustafa
CAIRO, Jan 30 (Aswat Masriya) - The toll of dead and injured in the deadly North Sinai attacks rose due to the explosion of an army ammunition store by mortar shrapnels, an army source said on Friday.
At least 30 people were killed and 50 others were injured late Thursday in four separate attacks against security installations in the governorate.
Around 12 unidentified bodies arrived at al-Arish Military Hospital and are currently being identified, the source said. He added that a number of those who were critically injured in the attacks were transported to military hospitals in Cairo.
The army spokesman said that "terrorist" elements were behind the attacks as a result of the armed forces' recent "successful blows" against them, in a statement released late Thursday.
Egypt's most active militant group Ansar Bayt al-Maqdis, which changed its name to Sinai Province since pledging allegiance to the leader of the Islamic State fighters in Iraq and Syria, claimed responsibility of the attacks on its Twitter account hours after they were launched.
Egypt's President Abdel Fattah al-Sisi cut short his visit to Ethiopia on Friday to attend the African Union summit following the attacks, the Egyptian presidency said in a statement.
Sisi declared a state of emergency and a curfew in the border governorate last October, in reaction to a militant attack which left over 30 security personnel killed.
It was extended until April 25, the cabinet said in a statement earlier this week.
Militants have stepped up attacks targeting security forces in Egypt, particularly in the Sinai peninsula, since the ouster of Islamist President Mohamed Mursi in July 2013.