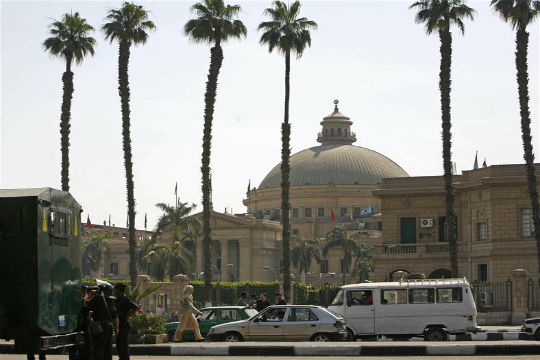 Members of Egyptian riot police (L) stand in front of Cairo University May 19, 2008. REUTERS/Asmaa Waguih
Student protests during midterm exams are prohibited and police will be allowed on campuses to enforce the ban, the High Council of Universities announced on Friday.
The designation of the Muslim Brotherhood as a terrorist organisation will be applied to student protests inside universities, added the council, which is headed by Higher Education Minister Hossam Eissa.
Since the start of the academic year student protests, mainly by by supporters of ousted president Mohamed Morsi, have rocked campuses, especially at Cairo and Al-Azhar universities.
At least two Al-Azhar students and two Cairo students have been killed in clashes with security forces in the past three months.