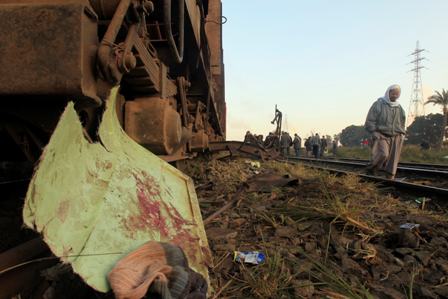 Belongings and traces of blood of victims are seen at the wreckage of a military train crash in the Giza neighbourhood of Badrashin, about 40 km (25 miles) west of Cairo, January 15, 2013. REUTERS/Mohamed Abd El Ghany
Egypt's railway traffic returned to its normal pace on Tuesday evening after being stalled for hours following the Bardashin train accident that happened overnight.
A train traveling from Upper Egypt to Cairo derailed on Tuesday morning, killing 19 conscripts and injuring 107 in yet another traffic tragedy.
"The movement of trains in Egypt has returned to normal after a disruption which lasted for long hours following the train crash," said the chairman of the railway facilities Hussein Zakaria as reported by the Middle East News Agency.
He added that 40 trains were delayed for an average of five hours per train.