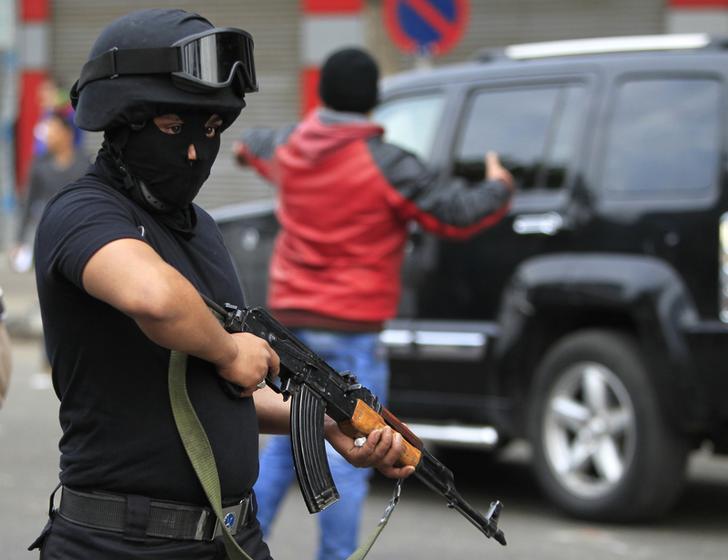 A riot police holds a weapon during an anti-government protest in downtown Cairo January 25, 2015. REUTERS/Mohamed Abd El Ghany
CAIRO, Jan 26 (Aswat Masriya) – Prosecutors opened on Monday an investigation with 43 defendants accused of involvement in violence that broke out in the east Cairo neighbourhood of Matariya, state-run MENA reported.
Violence broke out across several parts of Egypt on Sunday, which marked the fourth anniversary of the January 2011 uprising that toppled former president Hosni Mubarak.
The most fatal of the violence occurred in Matariya, a Muslim Brotherhood stronghold.
The prosecution has tasked the forensics authority with conducting autopsies on those who died in the Matariya violence to determine the exact cause of death.
According to MENA, the fatalities include a child who was shot in the chest while passing by in the vicinity of the clashes.
Interior Minister Mohamed Ibrahim said on Monday afternoon that Matariya was under security forces' "full control".
Ibrahim accused the Brotherhood of causing the violence, saying that "the Brotherhood rallied a group of their elements in Matariya, but we dealt with them."
He added there was "conclusive evidence" to prove that it was only Brotherhood elements who took to the street on Sunday.
By Monday afternoon, a total of 516 people had been arrested in the aftermath of the violence. The minister said they were Brotherhood affiliates.
At least 23 people died in the clashes, according to the Health Ministry. Interior Minister Mohamed Ibrahim said the deaths include two police personnel, during a press conference earlier today.
In a statement on Monday morning, international watchdog Human Rights Watch said there is a need in Egypt "for an independent investigation into the authorities' excessive use of force."