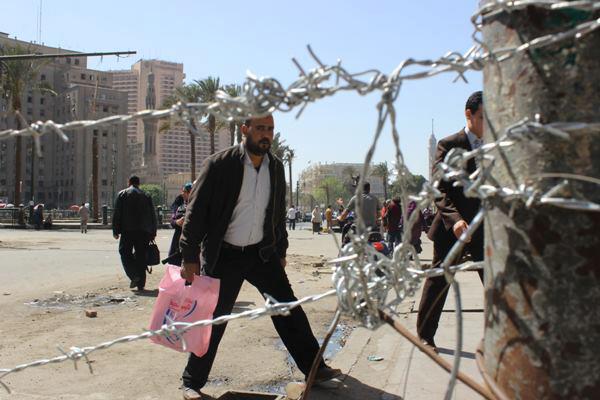 Dozens of protesters closed Tahrir Square to traffic again on Wednesday afternoon after security forces had opened it earlier in the morning. Ahmed Hamed/Aswat Masriya
Clashes on Thursday evening between activists holding a sit-in in Cairo's Tahrir Square and unknown assailants reached Talaat Harb Street, which is located adjacent to the flashpoint square.
The clashes come one day after the square was raided by police.
The two sides threw stones at one another, as local shopkeepers hastily closed their stores.
Earlier on Thursday, tensions were aggravated when shop owners from a nearby mall attacked the sit-in and burnt tents erected in the middle of the square, Al-Ahram's Arabic-language news website reported.
On Wednesday, 53 activists were arrested when security forces raided the square and removed barriers that had obstructed traffic. Activists returned shortly afterward and again closed the square off to traffic.
Anti-government activists have held an on-again, off again sit-in in Tahrir Square since 22 November, when President Mohamed Morsi issued a presidential decree that temporarily shielded his decisions from judicial oversight.