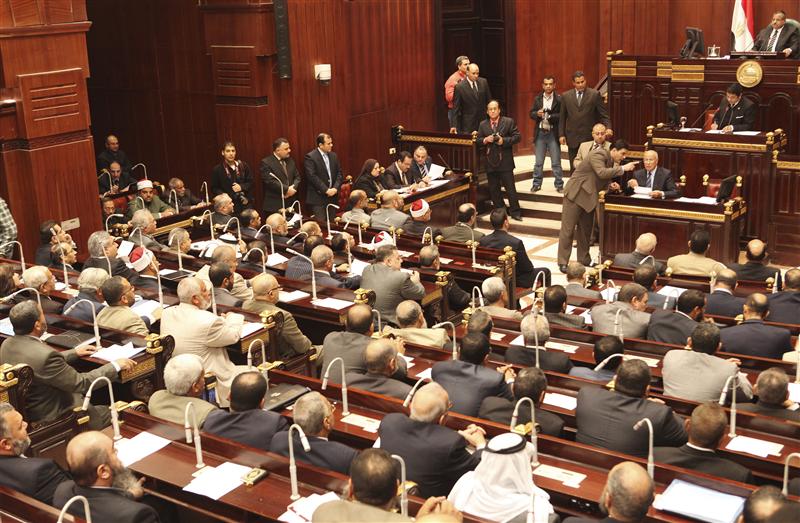 A general view shows the Shura Council during its meeting in Cairo December 26, 2012. The Islamist-dominated upper house of parliament (Shura Council), which now holds legislate power, is meeting for the first time on Wednesday, under the newly-approved constitution. REUTERS/Asmaa Waguih
Shura Council member, Nagy al-Shehaby, said on Monday that he hopes the council will be dissolved upon a court order, explaining that it is dominated by one faction that excludes the opposition from legislation.

He told Aswat Masriya that "shadows and doubts" will circle all legislations issued by the council within the next period, as they continue to ignore anyone from outside their bloc and only legislate bills that meet their interests while disregarding national interest.

The Shura Council that temporarily holds legislative power referred the new parliamentary election law to Egypt's High Constitutional Court on Saturday to review the legality of its articles.

Shehaby pointed out that when voters elected the council, they were not aware that it would become the country's legislature, adding that only seven percent of the population voted for it while the rest regarded it as useless.

He argued that most of its members are not qualified to legislate laws, suggesting that its dissolution would benefit civil forces as they may get better representation in a new elected council.

Another member of the council, Mona Makram Ebeid, had said earlier to the BBC that the council's conduct reminded her of the days of Hosni Mubarak and his now-dissolved National Democratic Party, comparing the Muslim Brotherhood's Essam al-Erian to jailed tycoon Ahmed Ezz.

State commissioners of the constitutional court are expected to issue recommendation on the legality of the council within 40 days.