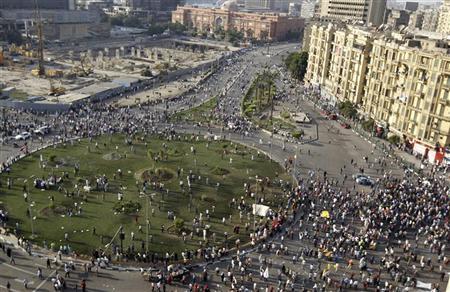 Archive photo of Tahrir Square - Reuters
CAIRO, Dec 1 (Aswat Masriya) – Security forces reopened on Monday Egypt's iconic Tahrir Square in downtown Cairo after two days of closure.
The square was closed off on Saturday afternoon after a court dropped charges against the toppled President Hosni Mubarak over complicity in the killing of protesters during the January 2011 uprising.
Nearly a thousand people rallied near Tahrir Square, the prime destination of protesters since the 2011 uprising, on Saturday evening in protest over the court ruling. Two protesters were killed and at least 13 others were injured in the clashes, according to the ministry of health.
Security forces maintained on Sunday the closure of Tahrir Square, to prevent protesters from assembling there.
The Metro Authority also announced on Sunday night reopening one of the main stations leading to downtown Cairo, which was closed "indefinitely" earlier on Sunday upon the request of security authorities.
The Gamal Abdel Nasser Station, which was briefly closed, is the nearest to the High Court building, a regular destination of protests.
Demonstrations planned outside the High Court building on Sunday in protest over Mubarak's acquittal were cancelled.
The Sadat Metro Station, which leads to Tahrir Square, has been closed since August 2013 following the forcible dispersal of two sit-ins set up in support of Egypt's ousted Islamist President Mohamed Mursi.
The Cairo Criminal Court dropped on Saturday the case against Mubarak over complicity in the killing of protesters and acquitted him alongside businessman Hussein Salem in the case of exporting gas to Israel below market prices.
The court also acquitted Mubarak's Interior Minister Habib al-Adly and four of his aides on charges of inciting and aiding the killing of 238 protesters.
Mubarak and his interior minister were sentenced to life in prison in 2012 for the same charges before an appeals court ordered their retrial. The retrial began in April, 2013.
In May, a Cairo court sentenced Mubarak to three years in prison on embezzlement charges.
He is serving time in a military hospital in Cairo, where he returned upon Saturday's ruling.