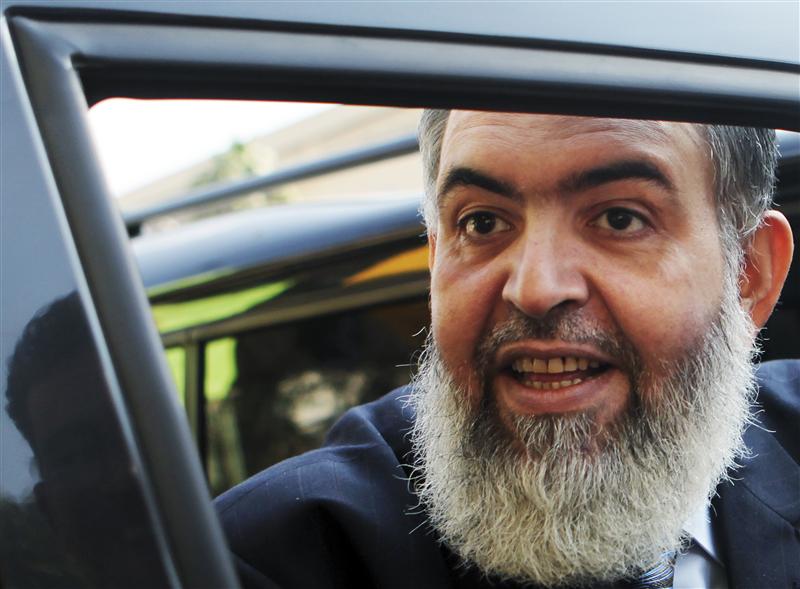 Salafist presidential candidate, Hazem Salah Abu Ismail - Reuters
Hundreds of supporters of Salafist presidential candidate Hazem Salah Abu-Ismail demonstrated outside a court in Cairo's Dokki district on Tuesday as he filed a lawsuit demanding the Interior Ministry present proof that his mother holds dual US-Egyptian citizenship.
The Egyptian Interior and Foreign Ministries and the US State Department have said that his mother acquired a US passport before she died but Abu-Ismail wants official evidence. If the allegation is proven he would be excluded from the presidential race set for later this spring.
His supporters chanted, "Hazem, Hazem, is coming, coming" and "The Sheikh's mother is Egyptian," after the court hearing was adjourned until the evening.
Upon Abu-Ismail's arrival at the court building, supporters cried, "God is great, God is great."
With a relatively brief history in electoral politics, a respectable career as a lawyer, a reputable status as a influential Islamic preacher, and known for his sharp political rhetoric, Hazem Salah Abu-Ismail has emerged as one of the frontrunners in Egypt's first post-Mubarak presidential contest.
He is the son of late high-profile Islamist figure Salah Abu-Ismail, who was a prominent Al-Azhar scholar, a long-standing member of parliament, and a member of the Muslim Brotherhood.
He announced his decision to run for the presidency in May 2011.
A final confirmed list of eligible presidential candidates is expected to be published by the Supreme Presidential Electoral Commission on 26 April.
Presidential elections will take place on 23 and 24 May, and the president will be named on 21 June after a runoff-voting round on 16 and 17 June.