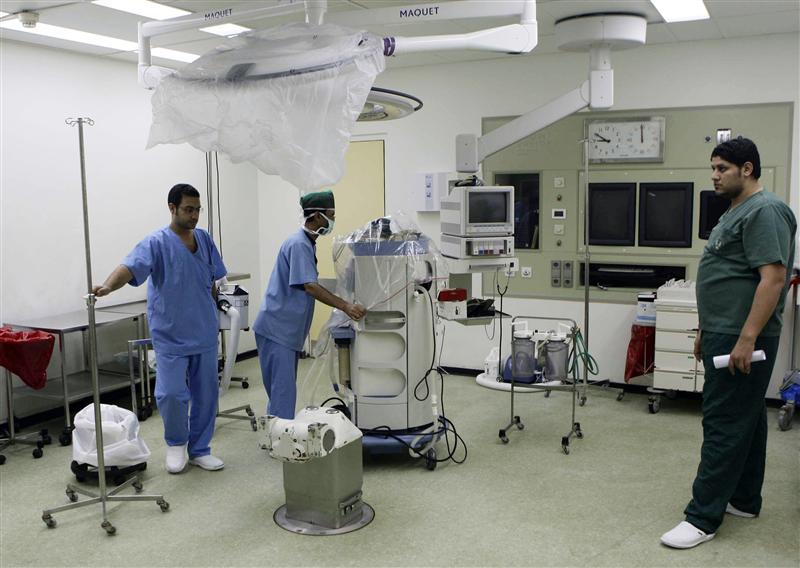 Egyptian doctors at a hospital - Reuters
CAIRO, Oct 20 (Aswat Masriya) – Egypt's minister of health ordered on Monday the suspension of the director of a hospital in Beheira which allegedly refused to admit a patient in labour.
Minister Adel El-Adawi also suspended the doctors at the Kafr al-Dawar hospital's Obstetrics and Gynecology department, reported state television. He referred the director and the department doctors to the administrative prosecution for investigation.
A video of a woman who gave birth to her infant outside the Kafr al-Dawar hospital went viral this week. In the video, the woman's husband is heard saying the hospital's doctor who examined her said she "needs a caesarian section".
"There, she is birthing naturally," the husband says in the video.
The patient's family accused the hospital's administration of negligence.
The hospital released a report on Sunday denying the family's accusation. The hospital said the patient was examined on Oct 10 and told she might need a caesarian section due to "the large size of the embryo." Three hours later, the hospital said, the patient began suffering from labour pain outside the door of the reception and emergency room.
The medical team asked the patient to move into the reception and emergency room to deliver the infant, the report read. It added that one of those accompanying the patient "strongly refused" to admit her into the reception and emergency room "to film her" as she delivered the infant outside.
"Nobody would prevent a patient from receiving the necessary medical treatment as claimed," the hospital said in its report.
Adawi formed a committee of the ministry's clinical medicine and technical inspection sectors to look into the authenticity of the family's accusations.