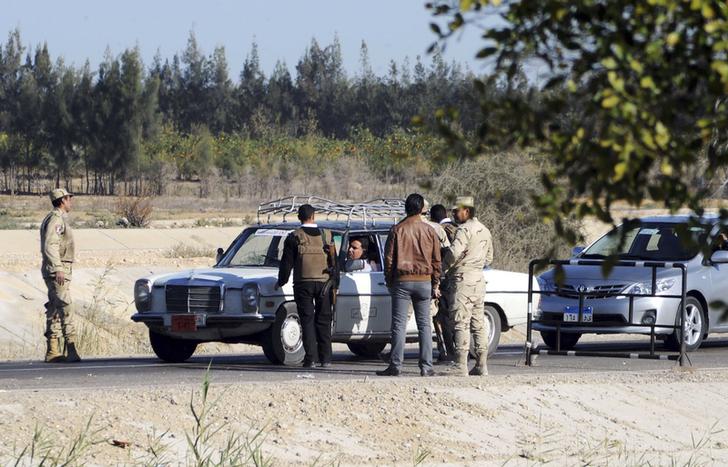 Egyptian security personnel check cars at a checkpoint near the site, where separate attacks on security forces in North Sinai on Thursday killed 30 people, in Arish, North Sinai, Egypt, January 31, 2015. REUTERS/Stringer
CAIRO, May 13 (Aswat Masriya) - Four civilians inside a car were killed in a blast in North Sinai on Wednesday, a security source told Aswat Masriya.
The blast was caused by an explosive device planted on the side of the road, the source said, adding that it was planted by members of the Sinai-based militant group Ansar Bayt al-Maqdis.
The source added that the device was planted with the purpose of targeting military vehicles, but it exploded when the private car hit it.
Meanwhile, sources told the state news agency MENA that four suspected militants were killed and 23 people were arrested in a campaign in the North Sinai cities of al-Arish, Sheikh Zuweid and Rafah.
This comes hours after Egypt's defence and interior ministers toured North Sinai military and police sites.
Militancy inside Egypt has seen a significant rise since July 2013, with most attacks targeting security forces in North Sinai.
The armed forces and police are responding with an intensified campaign to combat the insurgency. Earlier this week, the armed forces announced that security operations have left a total of 725 suspected militants killed between late October and late April.

A state of emergency and a night-time curfew have been in place in parts of North Sinai since deadly attacks last October, which left over 30 security personnel dead on one day.