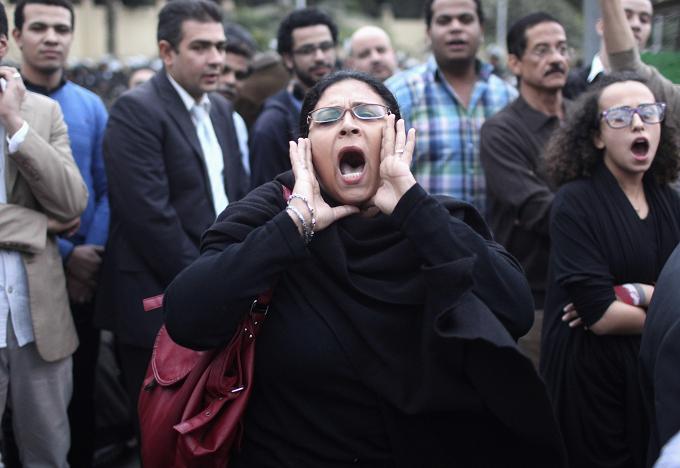 A protester chants anti-Mursi slogans in front of the presidential palace in Cairo December 4, 2012. REUTERS/Asmaa Waguih
Dostour Party member, Shady Al-Ghazali, said on Wednesday that the revolutionary forces will stage three marches heading to the High Court on Friday under the slogan of "Holding Mursi's regime accountable." He added that they will boycott the upcoming parliamentary elections.
Ghazali told Aswat Masriya that participating in the elections is recognition of the legitimacy of the regime, saying, "We do not recognise these elections, we will boycott it and work against it in the streets until the regime falls. We demand a new constitution, new presidential and parliamentary elections".
"We will sustain the popular pressure, not only through demonstrations, but through civil disobedience as well...until we achieve the demands of the revolution and overthrow the regime which has proved to be tyrannical," Ghazali said in a press conference.
The revolutionary forces issued a statement stating their demands, which are, putting President Mohamed Mursi's regime and the Muslim Brotherhood to trial for their crimes against the Egyptian people and sacking the attorney general appointed by Mursi.
The statement also demanded the immediate release of all political detainees and the trial of the Brotherhood leaders involved in the killing of protesters."
The statement was signed by a group of political movements, including the Free Front of Peaceful Change, Alliance of Revolutionary Forces, the Popular Movement for the Independence of Al-Azhar, The Second Egyptian revolution of Anger, Youth of the Constitution Party and the Revolutionary Youth Union.