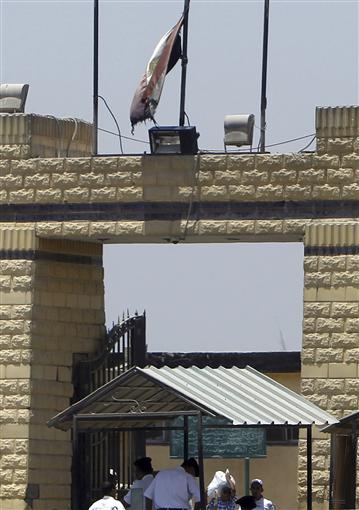 Policemen and people walk in front of the main gate of Tora prison, where former Egyptian president Hosni Mubarak and his former Interior Minister Habib al-Adli are held at, in the outskirts of Cairo June 4, 2012. REUTERS/Amr Abdallah Dalsh
CAIRO, Apr 8 (Aswat Masriya) - Egypt's top prosecutor mandated on Wednesday members of the public prosecution to continue to pay surprise, periodic visits to prisons and police stations to ensure laws are being applied.
Prosecutor General Hisham Barakat said in a statement that the prosecution has conducted on Monday surprise visits to nine prisons and all police stations in the governorates of Cairo and Giza.
Barakat ordered an investigation into reports submitted by prosecutors who carried out the visits, according to the statement. He also mandated the Interior Ministry to "avoid observations" made in the reports.
A delegation from the National Council for Human Rights visited Abu Zaabal prison in the northeast of Cairo late March, recommending that an urgent investigation is conducted into incidents reported by prisoners.
The council members met with four prisoners over complaints filed to the country's top prosecutor "about being subjected to beatings, assaults, humiliation and torture," a statement from the council's media office said.
The council members said prison authorities are not following the articles of the new prison bylaws on visits to prisoners and on the exercise they are allowed.