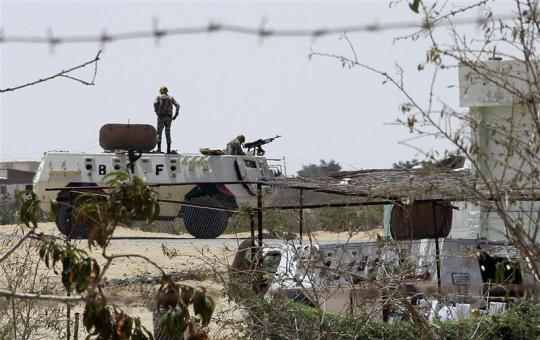 A security checkpoint in Rafah on the borders, August 2012 - Reuters
CAIRO, Jul 3 (Aswat Masriya) - Egypt's armed forces killed 35 suspected militants in North Sinai's Sheikh Zuweid and Rafah towns on Thursday, security sources told the state news agency MENA.
Those killed included "extremely dangerous elements", MENA reported early Friday.
Security forces have been shelling areas of Sheikh Zuweid since a string of coordinated attacks on a number of military checkpoints and a police station on Wednesday.
The attacks claimed the lives of 17 army personnel and left 13 others injured, the armed forces spokesman said. Security sources meanwhile reported to Aswat Masriya a higher number of casualties; 60 security personnel.
The Sinai-based Ansar Bayt al-Maqdis claimed responsibility for the attacks. The group pledged allegiance to the Islamic State fighters in Iraq and Syria last November, changing its name to Sinai Province.
The army spokesman had announced on Wednesday the death of 100 suspected militants in clashes which followed the attacks.
The attacks on Wednesday come after Egypt's top prosecutor was assassinated in a car bomb attack in Cairo on Monday.
Militancy inside Egypt has seen a significant rise since the military ouster of Islamist president Mohamed Mursi in July 2013, which was prompted by mass protests against his rule.
The second anniversary of his ouster will be marked on Friday.